This review from the MedChemComm New Talent themed issue covers one of the first successful examples of structure-based drug design for stabilised G protein-coupled receptors (GPCRs), focusing on the development of a pre-clinical candidate for the treatment of Parkinson's disease using StaR® technology.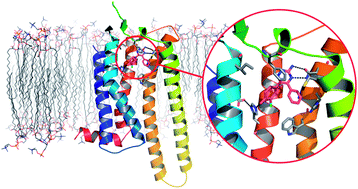 Stephen P. Andrews and Benjamin Tehan from Heptares Therapeutics Limited review the role the application of StaR® proteins plays in the discovery and development of new ligands for the adenosine A2A receptor (A2AR).
StaR® proteins are GPCRs which have had a small number of point mutations introduced to thermostabilise them. These proteins are stable in detergent micelles and are suitable reagents for use with X-ray crystallography, biophysical screening
techniques and fragment screening. These properties have enabled the application of biophysical screening techniques of ligand–receptor complexes and have facilitated their crystallisation, which has allowed true structure-based drug design on a GPCR to take place for the first time.
This review is separated into two main parts:
1) Applications of stabilised GPCRs
–    Describing the thermostabilisation process for generating StaR® proteins and, using A2AR as an example, considers the implications that this has on receptor conformation.
2) Structure-based drug design with StaRs®
–    Discussing how the application of techniques covered in the first part of the review aided in the optimisation of a hit A2AR antagonist which was identified by virtual screening of experimentally enabled homology models.
Read the complete review here…
and find more articles from our New Talent themed issue here…