Complex polyketides are a pharmaceutically important group of natural product compounds which present an elaborate stereochemistry, set up  by ketoreductase enzymes that can control the the orientation of the substituents during polyketide biosynthesis. 
One of the challenges ahead is the reliable engineering of modular polyketide synthases to produce new polyketides for drug development.
In this review, Jianting Zheng and Adrian Keatinge-Clay present a summary of the recent advances in understanding the stereocontrol of ketoreductases in modular polyketide synthases from biochemical, engineering and structural studies, providing a critical view on the mechanisms of ketoreductase stereocontrol. This timely review covers a number of outstanding questions surrounding their selectivity, activity, and engineering potential.
Curious? Why not read it now:
The status of type I polyketide synthase ketoreductases
Jianting Zheng and Adrian T. Keatinge-Clay
Med. Chem. Commun., 2012, Advance Article
DOI:10.1039/C2MD20191G, Review Article
From collection New Talent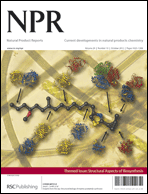 This review is part of MedChemComm's New Talent themed issue
Highlighting medicinal chemistry research in its broadest sense and showcasing the strength of research being carried out by tomorrow's leaders in the field: view the collection grow