Issue 9 of MedChemComm has arrived….read it today!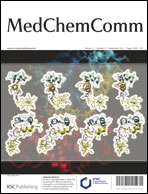 Front cover:
Oral delivery of drugs aims to open up new areas of peptide/protein therapeutics associated with the removal for a need for injections. The major problems facing oral delivery of peptides/proteins is hydrolysis/proteolysis in the gastrointestinal tract and an inefficient uptake mechanism for peptides/proteins from the tract. Robert P. Doyle et al. are interested in the use of the vitamin B12 dietary uptake pathway to address these hurdles. In this paper Doyle et al. report the synthesis, purification and characterisation of a new B12-insulin conjugate attached between the B12 ribose hydroxyl group and insulin PheB1
Examining the effects of vitamin B12 conjugation on the biological activity of insulin: a molecular dynamic and in vivo oral uptake investigation
Susan Clardy-James, Damian G. Allis, Timothy J. Fairchild and Robert P. Doyle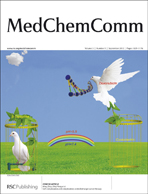 Inside cover:
Doxorubicin (DOX) is a widely adopted chemotherapy treatment for many different varieties of cancer, but its clinical value is limited due to its systemic toxicity. Currently one of the best ways to minimize the dose-related toxic shortcoming of DOX is to encapsulate the drug in various drug-delivery systems. In this paper from Shiqi Peng and co-workers design a novel self-complexation and complexation controlled target drug carrier for DOX delivery.
Self-complexation and complexation-controlled target cancer therapy
Li Li, Ming Zhao, Wenhao Li, Yuji Wang, Zhuge Zhang, Ran An and Shiqi Peng
Also in this issue:
A review from James C. Knight and Frank R. Wuest, from University of Alberta, that aims to provide a comprehensive overview of the application of CXCR4-targeted imaging probes across both nuclear (positron emission tomography/single-photon emission computed tomography) and optical modalities.
Nuclear (PET/SPECT) and optical imaging probes targeting the CXCR4 chemokine receptor