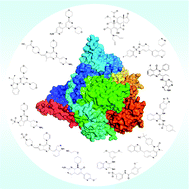 The phosphoinositide 3-kinase (PI3K) pathway is one of the most important signalling cascades in cancer. It has been well established as an attractive oncology target and inhibitors of PI3K have been suggested as promising agents for therapeutic intervention in cancer. Since the discovery of wortmannin and LY294002, the first compounds to inhibit PI3K, a vast number of inhibitors have been identified.
This review from Peng Wu and Yongzhou Hu, Zhejiang University, outlines the current landscape of the development of small molecule PI3K inhibitors, with a focus on structure–activity relationships (SAR) and discussion of co-crystal structures of the twenty-two molecules that are currently under clinical trials and newly emerged ones.
Read the review and let us know your thoughts by commenting below on this blog!
Small molecules targeting phosphoinositide 3-kinases
Peng Wu and Yongzhou Hu
DOI: 10.1039/C2MD20044A