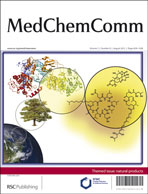 Issue 8 of MedChemComm has arrived and it's a Natural Products themed issue that is filled to bursting with: nine reviews elegantly summarising the synthesis, biosynthesis, inhibitory properties and targets, and biological functions of natural products, as well as new bioinformatics methods for their identification; and fourteen concise articles describing some of the newest discoveries in the field of natural products.

An example of such a concise article is featured on the inside cover of the issue:
Synthesis and anti-Helicobacter pylori activity of analogues of spirolaxine methyl ether
Ivaylo Dimitrov, Daniel P. Furkert, John D. Fraser, Fiona J. Radcliff, Orla Finch and Margaret A. Brimble
DOI: 10.1039/C2MD00314G


To check out the entire themed issue now click here…

A big thank you must go to the guest editors Professor Christopher Walsh (Harvard University) & Dr Sylvie Garneau-Tsodikova (University of Michigan) for all their hard work, and to all those who have contributed to this issue for making this issue such a success.
Finally, below is a cover suggestion from Amanda J. Hughes et al., which we really liked but which we were unfortunately unable to use on the cover, so we thought we would share it with you here.
Employing a polyketide synthase module and thioesterase in the semipreparative biocatalysis of diverse triketide pyrones
Amanda J. Hughes, Joshua F. Detelich and Adrian T. Keatinge-Clay
DOI: 10.1039/C2MD20013A