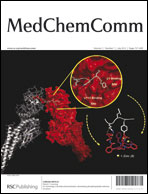 This striking cover brings the work of Patrick T. Gunning and co-workers to the forefront of issue 7.
In this Concise article Gunning et al. discuss the design and synthesis of a novel class of ditopic coordination complex-based SH2 domain mimetics using de novo rational and computational design. In addition Gunning et al. identify several lead compounds that bind selectively to target phosphopeptides via the same bivalent binding mechanism employed by SH2 domains in a cell.
Access this article for FREE for 6 weeks!
Src homology 2 domain proteomimetics: developing phosphopeptide selective receptors
Joel A. Drewry, Steven Burger, Amir Mazouchi, Eugenia Duodu, Paul Ayers, Claudiu C. Gradinaru and Patrick T. Gunning
Also in this issue are the following 2 reviews:
The use of phosphate bioisosteres in medicinal chemistry and chemical biology
Thomas S. Elliott, Aine Slowey, Yulin Ye and Stuart J. Conway
M1 muscarinic cetylcholine receptor allosteric modulators as potential therapeutic opportunities for treating Alzheimer's disease
Michael Decker and Ulrike Holzgrabe
Check out all this and more in the complete online issue