Two hot articles feature on the cover of MedChemComm this month: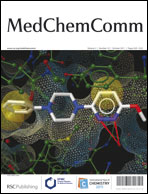 The outside front cover features the review from Camille Wermuth, Prestwick Chemical Inc., France, on the applications of pyridazine scaffolds for medicinal chemistry. This article has featured in our Top 10 lists for the last 3 months, so why not take a look at what everyone else has been reading?
Are pyridazines privileged structures?
Camille G. Wermuth
Med. Chem. Commun., 2011, 2, 935-941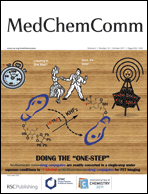 The inside front cover is from Chris Overall and David Perrin, demonstrating a technique for easy production of 18F labelled marimastat, a clinically trialled breast cancer drug, with general applications for PET imaging.
Towards kit-like 18F-labeling of marimastat, a noncovalent inhibitor drug for in vivo PET imaging cancer associated matrix metalloproteases
Ying Li, Richard Ting, Curtis W. Harwig, Ulrich auf dem Keller, Caroline L. Bellac, Philipp F. Lange, James A. H. Inkster, Paul Schaffer, Michael J. Adam, Thomas J. Ruth, Christopher M. Overall and David M. Perrin
Med. Chem. Commun., 2011, 2, 942-949
Read the rest of the issue here