Welcome to MedChemComm Issue 9.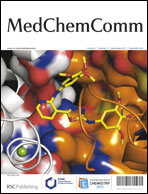 Ahmed Kamal and colleagues from the Indian Institute of Chemical Technology in Hyderabad (India) have devised a series of novel 2-Anilinonicotinyl linked 1,3,4-oxadiazole derivatives through simple synthetic schemes that exhibit potent anticancer efficacy via the inhibition of tubulin polymerisation, thus blocking mitotic division.

Interested? Why not read the article now! As with all our Cover articles, it will be FREE to access for the next 6 weeks.

2-Anilinonicotinyl linked 1,3,4-oxadiazole derivatives: Synthesis, antitumour activity and inhibition of tubulin polymerization Ahmed Kamal, Y. V. V. Srikanth, Thokhir B. Shaik, M. Naseer A. Khan, Md. Ashraf, M. Kashi Reddy, K. Anil Kumar and Shasi V. Kalivendi
Med. Chem. Commun., 2011, 2, 819-823 DOI: 10.1039/C0MD00177E