Read the growing collection here – rsc.li/AIinMicrofluidics
We are delighted to announce a new thematic collection in Lab on a Chip on AI in Microfluidics, with Professors Keisuke Goda, Hang Lu, Peng Fei & Jochen Guck as Thought Leaders.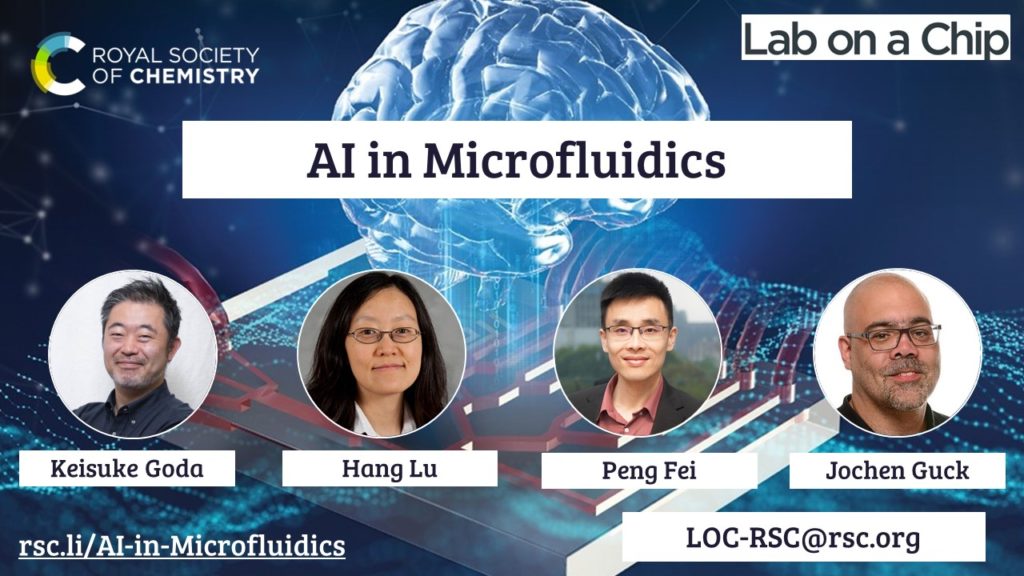 The last decade has seen unprecedented growth in computational power and cloud storage breakthroughs in artificial intelligence (AI). AI-produced outcomes have been proven comparable or even superior to the performance of human experts in drug design, material discovery, and medical diagnosis. In these applications, lab on a chip technology, in particular microfluidics, plays an important role as a platform for both the construction and implementation of AI in a large-scale, high-throughput, automated, multiplexed, and cost-effective manner. The goal of this thematic collection is to highlight new advances in this growing field with an emphasis on the interface between technological advancements and impactful applications.
This on-going collection is collated by Thought Leaders Keisuke Goda, Hang Lu, Peng Fei & Jochen Guck, and the Lab on a Chip Editorial Office. Are you interested in submitting? We welcome submissions of original research articles and reviews, which (after peer review) will be published and added to the online collection. Papers in this collection will receive extensive promotion throughout the submission period and also will be disseminated widely as a 'flagship' collection for the journal. If you are interested in submitting to the series, please get in touch with the Lab on a Chip Editorial Office at loc-rsc@rsc.org
This collection is open for submissions now