We are delighted to announce that in January 2021, Professor Aaron Wheeler (University of Toronto, Canada) will take over as the new Editor-in-Chief for Lab on a Chip.
Professor Wheeler is Canada Research Chair in Microfluidic Bioanalysis at the University of Toronto. He has been recognized with a number of honors including the E.W.R. Steacie Memorial Fellowship from the Canadian National Sciences and Engineering Research Council, the Arthur F. Findeis Award from the American Chemical Society, and the Joseph Black Award from the Royal Society of Chemistry. Professor Wheeler's research group develops microfluidic tools to solve problems in chemistry, biology, and medicine.
Aaron has been an Associate Editor for Lab on a Chip since 2013, and we are delighted that he will continue to handle submissions for Lab on a Chip. Aaron's experience and knowledge of the journal and its community, combined with his academic experience, mean he will be a fantastic Editor-in-Chief for the journal.
"I'm honored to be taking up the duties of Editor-in-Chief for Lab on a Chip, "Perhaps uniquely relative to other journals, Lab on a Chip played a critical role in the birth and growth of a new field of research. Since the year 2000, the journal has been the 'home' for the best that the community has to offer, and I look forward to continuing that tradition going forward" says Aaron, "I am in awe of the diversity of topics that the Lab on a Chip community has made an impact in, be that cells or gels, soil or oil, or trees or bees, there is a Lab on a Chip for that. I can't imagine a community that is more fun to be a part of."
This news does of course mean that Professor Abe Lee will be standing down as Editor-in-Chief of Lab on a Chip. Professor Lee has served on the Editorial Board of Lab on a Chip for eleven years, first as an Editorial Board member, then an Associate Editor and finally as our Editor-in-Chief, and we are extremely grateful to Abe for his creativity and leadership throughout this period. We wish him all the best, and look forward to continuing to work with him as he moves to hold a position on our Advisory Board.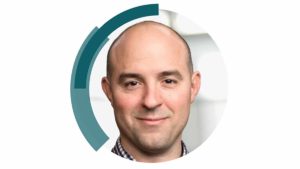 Read some of Aaron's most recent publications below, free to access until 17th December 2020.
Direct loading of blood for plasma separation and diagnostic assays on a digital microfluidic device
Christopher Dixon, Julian Lamanna and Aaron R. Wheeler
Paper
Lab Chip, 2020, 20, 1845-1855
When robotics met fluidics
Junjie Zhong, Jason Riordon, Tony C. Wu, Harrison Edwards, Aaron R. Wheeler, Keith Pardee, Alán Aspuru-Guzik and David Sinton
Perspective
Lab Chip, 2020, 20, 709-716
Digital microfluidics and nuclear magnetic resonance spectroscopy for in situ diffusion measurements and reaction monitoring
Ian Swyer, Sebastian von der Ecken, Bing Wu, Amy Jenne, Ronald Soong, Franck Vincent, Daniel Schmidig, Thomas Frei, Falko Busse, Henry J. Stronks, André J. Simpson and Aaron R. Wheeler
Paper
Lab Chip, 2019, 19, 641-653
Towards a personalized approach to aromatase inhibitor therapy: a digital microfluidic platform for rapid analysis of estradiol in core-needle-biopsies
Sara Abdulwahab, Alphonsus H. C. Ng, M. Dean Chamberlain, Hend Ahmado, Lucy-Ann Behan, Hala Gomaa, Robert F. Casper and Aaron R. Wheeler
Paper
Lab Chip, 2017, 17, 1594-1602
Pre-concentration by liquid intake by paper (P-CLIP): a new technique for large volumes and digital microfluidics
Darius G. Rackus, Richard P. S. de Campos, Calvin Chan, Maria M. Karcz, Brendon Seale, Tanya Narahari, Christopher Dixon, M. Dean Chamberlain and Aaron R. Wheeler
Paper
Lab Chip, 2017, 17, 2272-2280