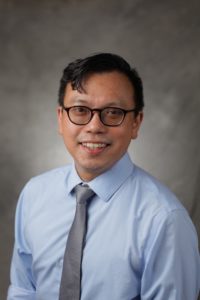 Lab on a Chip and Dolomite are delighted to announce the winner of the 2020 Pioneers of Miniaturization Lectureship, Professor Wilbur A. Lam, MD, PhD.
This Lectureship honours and supports the up and coming, next generation of scientists who have significantly contributed to the understanding or development of miniaturised systems.
Professor Lam is a physician-scientist-engineer and clinical pediatric hematologist/oncologist. He is the W. Paul Bowers Research Chair of Pediatrics and Biomedical Engineering at Emory University and Georgia Tech and an attending physician at the Aflac Cancer and Blood Disorders Center of the Children's Healthcare of Atlanta.
His laboratory focuses on developing microsystems to study and diagnose hematologic diseases including sickle cell disease, thrombotic/bleeding disorders, and leukemia. He is also principal investigator of the Atlanta Center for Microsystems Engineered Point-of-Care Technology (ACME POCT), an integral part of the NIH's Point-of-Care Technologies Research Network (POCTRN) and RADx COVID-19 initiative.
Professor Lam received his MD from Baylor College of Medicine, going on to earn his PhD in Bioengineering from the University of California, Berkley. He completed his Fellowship in Pediatric Hematology/Oncology and Residency in Pediatrics at the University of California, San Francisco.
Our Pioneers of Miniaturization Lectureship Winner is invited to speak at MicroTAS, and thus Wilbur will be presenting his talk at the online MicroTAS 2020 meeting, 4-9th October 2020.
We our warmest congratulations to Wilbur on his achievement.
---
Read some of Wilbur Lam's recent Lab on a Chip papers below:
Interdigitated microelectronic bandage augments hemostasis and clot formation at low applied voltage in vitro and in vivo
Elaissa T. Hardy, Yannan J. Wang, Sanathan Iyer, Robert G. Mannino, Yumiko Sakurai, Thomas H. Barker, Taiyun Chi, Yeojoon Youn, Hua Wang, Ashley C. Brown and Wilbur A. Lam
Lab Chip, 2018, 18, 2985-2993
Probing blood cell mechanics of hematologic processes at the single micron level
Jordan C. Ciciliano, Reza Abbaspour, Julia Woodall, Caroline Wu, Muhannad S. Bakir and Wilbur A. Lam
Lab Chip, 2017, 17, 3804-3816
3D microvascular model recapitulates the diffuse large B-cell lymphoma tumor microenvironment in vitro
Robert G. Mannino, Adriana N. Santiago-Miranda, Pallab Pradhan, Yongzhi Qiu, Joscelyn C. Mejias, Sattva S. Neelapu, Krishnendu Roy and Wilbur A. Lam
Lab Chip, 2017, 17, 407-414
---
*Free to read until 26th October 2020 with an RSC publishing account.