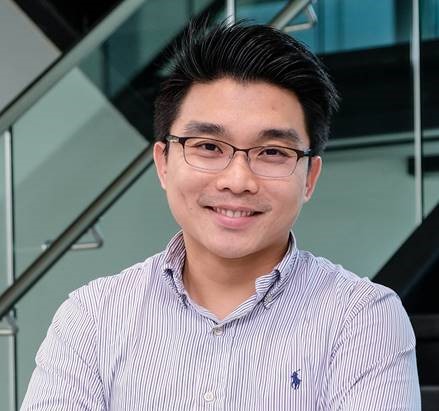 Dr. Han Wei Hou is currently an Assistant Professor at the School of Mechanical and Aerospace Engineering and the Lee Kong Chian School of Medicine (LKCMedicine), Nanyang Technological University (NTU), Singapore. He received his BEng (First Class Hons) and PhD degree in Biomedical Engineering from the National University of Singapore in 2008 and 2012, respectively. Upon graduation, he did his postdoctoral training at Massachusetts Institute of Technology (MIT), and subsequently joined LKCMedicine at NTU as the inaugural LKCMedicine Postdoctoral Fellow in 2014.
Dr. Hou has over 30 peer-reviewed scientific publications, and his work has been featured in online science (ScienceDaily, TheScientist, Cancerforall and Genomeweb), healthcare (News Medical), as well as technology magazines (Gizmag, Nanowerk). He has received several scientific awards including the Singapore-MIT Alliance for Research and Technology (SMART) Graduate Fellowship (2009), Young Investigator Award at the 6th World Congress of Biomechanics (2010), and LKCMedicine Postdoctoral Fellowship (2014).
His current research focus on developing novel microfluidics point-of-care testing, and biomimetic organ-on-chip technologies for translational diabetes and cardiovascular diseases research. (Research group website: www.hwhoulab.com)
Read Han Wei Hou's Emerging Investigator article "Integrated inertial-impedance cytometry for rapid label-free leukocyte isolation and profiling of neutrophil extracellular traps (NETs)" and find out more about him in the interview below:
Your recent Emerging Investigator Series paper focuses on Integrated inertial-impedance cytometry for rapid label-free leukocyte isolation and profiling of neutrophil extracellular traps (NETs). How has your research evolved from your first article to your most recent Emerging Investigator article?
My first article when I was an undergraduate student was on the study of cancer biomechanics using microfluidics. Since then, I worked on other blood-related diseases such as malaria, sepsis and diabetes, and gradually became more interested towards microfluidics-enabled studies of host inflammation and immune responses in metabolic diseases. Regardless of disease type, our key idea is to develop integrated label-free cell sorting and biosensing approaches so that it can be cheap, fast and readily translated to clinical use. In my opinion, this work is a nice combination of all aspects.
What aspect of your work are you most excited about at the moment?
With this paper, we can now use a drop of blood to assess immune heath within minutes in a single-step user operation. We believe this work has great translational potential, and we are actively seeking new collaborators to test other diseases with immune dysfunctions.
In your opinion, what is the next step from creating your device to it being used for point-of-care testing in diabetes? and what are the most important questions to be asked/answered in this field of research?
Through this work and other recent work by our group, we have showed that diabetic leukocytes have distinct dielectric differences which can be used for immune health risk stratification. The next few important questions to ask is why are they different, and how we can further develop our technologies/assays to improve prognostic capabilities.
What do you find most challenging about your research?
As our work is highly interdisciplinary, the most challenging aspects are about finding the right people (collaborators, students etc.) and asking the right scientific questions (not too basic science, not too clinical and not too engineering)!
In which upcoming conferences or events may our readers meet you?
MicroTAS 2019 (Basel) and Microfluidics & Organ-on-a-Chip Asia Conference 2019 (Tokyo)
How do you spend your spare time?
Family time! Nowadays I enjoy spending time with my 18-month-old daughter Hannah, who never fails to amuse me or tire me out. If time permits, I will try to catch some US late-night talk shows too!
Which profession would you choose if you were not a scientist?
Tough choice! I'm torn between being a Lego/toy designer and a pilot.
Can you share one piece of career-related advice or wisdom with other early career scientists?
Talk to people outside your research disciplines. Learn to unlearn things if necessary because science and technology is advancing so fast.