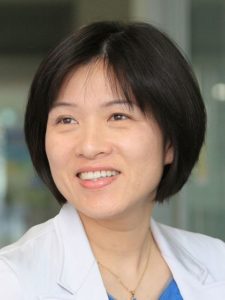 We are delighted to announce that Professor Yoon-Kyoung Cho (UNIST, South Korea) has been appointed Associate Editor for Lab on a Chip.
Professor Cho joined Lab on a Chip in 2013 as an Editorial Board member and now joins Petra Dittrich, Hang Lu, Jianhua Qin, Manabu Tokeshi, Joel Voldman and Aaron Wheeler as Associate Editors handling the peer review of submissions to the journal.
Professor Yoon-Kyoung Cho is a Full Professor in Biomedical Engineering at Ulsan National Institute for Science and Technology (UNIST) and a group leader in the Center for Soft and Living Matter at the Institute for Basic Science (IBS), South Korea. She received her Ph.D. in Materials Science and Engineering from the University of Illinois at Urbana-Champaign in 1999, having obtained her M.S. and B.S. in Chemical Engineering from POSTECH in South Korea in 1994 and 1992, respectively. She worked as a senior researcher (1999–2008) at Samsung Advanced Institute of Technology (SAIT), where she participated in the development of in vitro diagnostic devices for biomedical applications.
Professor Yoon-Kyoung Cho's research interests range from basic sciences to translational research in microfluidics and nanomedicine. Current research topics include a lab-on-a-disc for the detection of rare cells and extracellular biomarkers, quantitative analysis of single cells, and system analysis of cellular communication. Learn more about the Cho group at http://fruits.unist.ac.kr.
Some recent publications by Professor Cho in Lab on a Chip are shown below:
Cell migration in microengineered tumor environments Eujin Um, Jung Min Oh, Steve Granick and Yoon-Kyoung Cho
Fully automated, on-site isolation of cfDNA from whole blood for cancer therapy monitoring Chi-Ju Kim, Juhee Park, Vijaya Sunkara, Tae-Hyeong Kim, Yongjin Lee, Kyusang Lee, Mi-Hyun Kim and Yoon-Kyoung Cho
Urine-based liquid biopsy: non-invasive and sensitive AR-V7 detection in urinary EVs from patients with prostate cancer Hyun-Kyung Woo, Juhee Park, Ja Yoon Ku, Chan Ho Lee, Vijaya Sunkara, Hong Koo Ha and Yoon-Kyoung Cho
Professor Cho is also a Series Editor for Lab on a Chip's Emerging Investigator Series alongside Dino Di Carlo and Piotr Garstecki. More details about the series and how to apply are available at rsc.li/loc-emerging
Please join us in welcoming Professor Yoon-Kyoung Cho to Lab on a Chip.
Submit to Professor Cho's Editorial Office 
Interested in the latest news, research and events of Lab on a Chip journal? Find us on Twitter:@LabonaChip