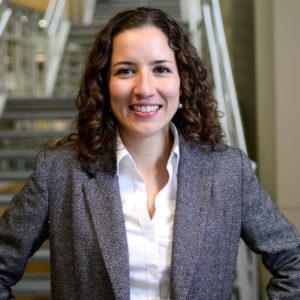 Adriana San Miguel is an Assistant Professor in the Department of Chemical & Biomolecular Engineering at NC State University. She is part of the Synthetic and Systems Biology Chancellor´s Faculty Excellence Program. Her work combines engineering and biology and focuses on developing tools to perform high-throughput automated experiments with the model organism C. elegans. Her team uses these tools and this organism to better understand aging, stress, and the nervous system.
Adriana is originally from San Luis Potosi, Mexico. After receiving a BS in Chemical Engineering at the Monterrey Institute of Technology (ITESM) in 2005, she worked in the water treatment and cement industries for 2 years. She obtained a Ph.D. in Chemical Engineering from the Georgia Institute of Technology in 2011. She then took on a Postdoctoral Research position at Georgia Tech, and a second one at the Dana-Farber Cancer Institute in Boston. In 2013, Adriana was awarded the NIH K99 Pathway to Independence Award to study the mechanisms regulating synaptic plasticity and aging in the nematode C. elegans.
Read her Emerging Investigator Series article "A microfluidic platform for lifelong high-resolution and high throughput imaging of subtle aging phenotypes in C. elegans" and find out more about her in the interview below:
Your recent Emerging Investigator Series paper focuses on a microfluidic platform for high-resolution and high throughput imaging of aging phenotypes in C. elegans. How has your research evolved from your first article to this most recent article? 
We have previously been interested in developing systems for high-throughput imaging and analysis of subcellular features in C. elegans, and gained interest in quantitatively assessing how these change during aging. Aging studies pose several technical challenges that could not be addressed with previous microfluidic devices, thus our interest in developing a system capable of performing high-throughput analysis of aging phenotypes.
What aspect of your work are you most excited about at the moment?
I am excited about the possibility of doing systems biology enabled by microfluidics. Lab on chip approaches provide an excellent level of precision in experimental conditions which are unfeasible with traditional C. elegans techniques. Microfluidics also allows high-throughput studies that result in large data sets, and as a consequence, a need to perform unsupervised quantitative data analysis. When combined, these powerful approaches enable better understanding of biological processes from a systems perspective.
In your opinion, what are the challenges with using microfluidics for whole organism behaviour?
Behavioral studies are challenging, particularly because there is a large degree of variability within a population. Microfluidics can help by facilitating animal handling and ensuring the stimuli used is precise (in time, concentration, and localization). Although it is difficult to determine how representative a microfluidic environment (where animals navigate in 2D) resembles their natural 3D environment, microfluidic chips enable single animal tracking, thus increasing the confidence of noisy behavioral readouts.
What do you find most challenging about your research?
Our research requires the integration of several different fields. We develop microfluidic tools, and use them to answer fundamental biological questions. In addition, we use automation, image processing, machine learning, and analysis tools for the large data sets we acquire. Integrating all of these can certainly be challenging, but achieving fully integrated systems is what we find very motivating.
In which upcoming conferences or events may our readers meet you?
I typically attend the American Institute of Chemical Engineers Annual Meetings, as well as the International C. elegans meeting, among others.
How do you spend your spare time?
I enjoy working out every day, it is a necessary part of my routine. I also enjoy baseball, live music, reading, and spending time with family and friends.
Which profession would you choose if you were not a scientist?
I'd probably still be an Engineer, or maybe an artist of some sort.
Can you share one piece of career-related advice or wisdom with other early career scientists?
Something I could suggest is to not be afraid of testing new ideas and methods or venturing into different fields. Although it can be challenging to develop something that is completely new, if it sparks your interest, give it a try. It is very rewarding and motivating to get something new working.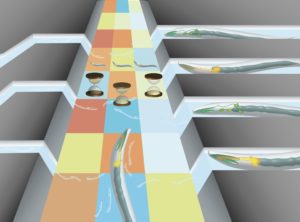 San Miguel Journal Front Cover