Get your entries in before the deadline on 15th October 2018 (23:59 Honolulu, Hawaii, USA time)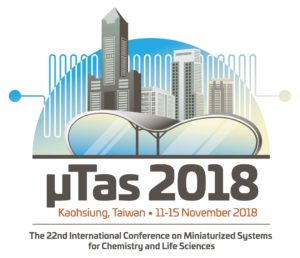 The µTAS 2018 Conference will feature the 11th Art in Science competition entitled 'Under the Looking Glass: Art from the World of Small Science', sponsored and supported by National Institute of Standards and Technology, Lab on a Chip, MicroTAS and the Chemical and Biological Microsystems Society.
Since the earliest publications of the scientific world, the aesthetic value of scientific illustrations and images has been critical to many researchers. The illustrations and diagrams of earlier scientists such as Galileo and Da Vinci have become iconic symbols of science and the scientific thought process.
In current scientific literature, many scientists consider the selection of a publication as a "cover article" in a prestigious journal to be very complimentary.
Deadline 15th October 2018 at 23:59 Honolulu, Hawaii, USA time—please note this is a month before the conference!
Are you attending the µTAS 2018 Conference?
Would you like your image to be featured on the cover of Lab on a Chip?
To draw attention to the aesthetic value in scientific illustration while still conveying scientific merit, NIST, LOC and CBMS are sponsoring this annual competition. Applications are encouraged from authors in attendance of the µTAS Conference and the winner will be selected by a panel of judges and presented at the Royal Society of Chemistry/Lab on a Chip booth during the last poster session of the 2018 MicroTAS conference.
Applications must show a photograph, micrograph or other accurate representation of a system that would be of interest to the µTAS community and be represented in the final manuscript or presentation given at the Conference.
They must also contain a brief caption that describes the illustration's content and its scientific merit. The winner will be selected on the basis of aesthetic eye appeal, artistic allure and scientific merit. In addition to having the image featured on the cover of Lab on a Chip, the winner will also receive a financial prize at the Conference.

Art in Science Competition Submission Process
Step 1. Sign-In to the Electronic Form Using Your Abstract/Manuscript Number
Step 2. Fill in Remaining Information on Electronic Submission Form
Step 3. Upload Your Image
Good Luck!
You can also take a look at the winners from last year on our blog.