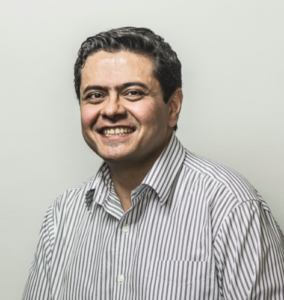 We are delighted to introduce our latest Lab on a Chip Emerging Investigator, Pouya Rezai!
Dr. Pouya Rezai is an emerging investigator in the fields of microfluidics and Lab-on-Chips (LoC). He received his PhD in Mechanical Engineering from McMaster University in 2012. Dr. Rezai was an NSERC Visiting Fellow at Public Health Agency of Canada before joining York University in July 2013 as an Assistant Professor. He is the Graduate Program Director of the Department of Mechanical Engineering at York University and the Editor of the Canadian Society for Mechanical Engineering (CSME) bulletin. The overarching goal of his research program is to expand fundamental understanding of the interactions between fluids and nano- to micro-scale biological substances in their micro-environments and to employ this knowledge to devise efficient microsystems for facilitating research and development in human health-related applications
Read Pouya's Emerging Investigator series paper "A microfluidic device for partial immobilization, chemical exposure and behavioural screening of zebrafish larvae" and find out more about him in the interview below:
Your recent Emerging Investigator Series paper focuses on a microfluidic device to partially immobilise Zebrafish Larvae for behavioural screening. How has your research evolved from your first article to this most recent article?
I started my work on organisms-on-a-chip with the C. elegans worm model. Our work was initially focused on C. elegans response to electric field in microchannels, a phenomenon called electrotaxis. We then became interested in using electrotaxis as a tool to screen movement of worms under exposure to chemicals. Recently, we have become interested in not only electrotaxis, but also chemotaxis of C. elegans and other model organisms such as Drosophila melanogaster and Danio rerio in lab-on-chips. We have developed multiple microfluidic devices for neurobehavioral screening of these organisms. Our goal is to continue working on the same models at the behavioural level but also focus on their cellular responses to stimuli. Our long term objective is to use our organism-on-a-chip devices for drug screening and toxicology studies in collaboration with academia and industry.
What aspect of your work are you most excited about at the moment?
Two major aspects of my work as a professor excites me the most. First and foremost is being able to teach and train young students in the fields of Mechanical and Biomedical Engineering that I am passionate about; and second is having the opportunity to apply my knowledge as an engineer directly to human health related issues. Due to the interdisciplinary nature of our research, I find the collaborative aspects of our work very rewarding for me and my trainees.
In your opinion, what is the biggest benefit of immobilising Zebrafish Larvae for analysis over the conventional droplet-based technique?
The most significant benefit is achieving higher sensitivity in quantifying subtle movement behavioural phenotypes of zebrafish in an easier and faster way. In droplets, you either need an expert to monitor movement manually or complex setups for tracking larvae's movement in the droplet. With our technique, minimally trained personnel can quickly gain the ability to assay zebrafish movement under exposure to various chemicals.
What do you find most challenging about your research?
We develop devices for live organisms with the capability of making voluntary decisions while in the chip. One does not encounter this challenge with cultured cells or molecules. Decision-making generates opportunities to study sensory-motor responses at the whole-organism level, but also produces a wide variety of challenges in designing microfluidic devices and quantification of the desired biological processes. Another challenge is the general trend in the field to move towards biological models that better mimic human diseases and disorders. This has generated significant momentum towards the use of human-derived cells in biomimetic microfluidic devices. However, I still think there are many unanswered questions that can be addressed by small scale organisms.
In which upcoming conferences or events may our readers meet you?
The International Conference on Miniaturized Systems for Chemistry and Life Sciences (MicroTAS) is my favorite conference to go to every year. Some other events that we attend are the MEMS and Transducers conferences.
How do you spend your spare time?
Time is the most precious thing in the world. The nature of an academic job requires a significant dedication of time to professional development, especially at the initial stages of your career. Is this a correct path that we have taken? Let's not get there for now!
Like many of my colleagues who are my role models and mentors, I rarely have any spare time to be spent on my hobbies. But the most important activity that I enjoy doing, and I wish I could do much more, is to spend quality time with my lovely family. After this, I enjoy nature and listening to good music.
Which profession would you choose if you were not a scientist?
I would pursue the entrepreneurship path and start my own business to help resolve a pressing health related issue.
Can you share one piece of career-related advice or wisdom with other early career scientists?
One of the most influential factors during my professional career has been the opportunity to have excellent mentors and role models who have guided me throughout my postgraduate studies and academic career. The leaders in the field and their path to success have been very inspiring to me in the recent past. I recommend early career scientists to reach out to their communities and seek professional advise on their research and teaching activities.