We are delighted to announce our latest Thematic Collection in Lab on a Chip – Personalised Medicine: Liquid Biopsy!
This collection is being lead by Thought Leaders Stefanie Jeffrey and Mehmet Toner.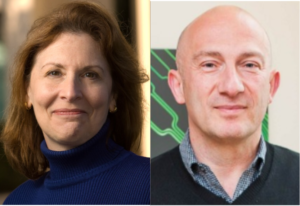 Stefanie Jeffrey, MD, is the John and Marva Warnock Professor and Chief of Surgical Oncology Research in the Department of Surgery at Stanford University School of Medicine. Her lab focuses on technology development and applications related to liquid biopsy (CTCs, ctDNA, extracellular vesicles), droplet-based microfluidic platforms, and preclinical models for testing new cancer therapies.
Mehmet Toner, PhD, is a member of the faculty at the Center for Engineering in Medicine at Massachusetts General Hospital. Dr. Toner is motivated by multi-disciplinary problems at the interface of engineering and life sciences. In the fields of microfluidics/micro-engineering/cancer he is working on microfluidics in biology and medicine including microfluidic blood processing, developing a microchip to help sort rare cells and integration of living cells and micro-engineered tissue units into micro-devices.
Liquid Biopsy, coined by Pantel and Alix-Panabières in 2010, originally referred to real-time analyses of CTCs in cancer. However, that term has since expanded to encompass the analyses of many other disease-related substances found in blood and other body fluids. Our goal is to highlight the new advances in this growing field with an emphasis on the interface between the technological advancements and high impact applications of liquid biopsy technologies. These would include manuscripts related to components that can be captured or characterized from blood such as circulating tumour cells, circulating nucleic acids and circulating extracellular vesicles.
Interested in submitting to the collection?
If you are interested in submitting to the personalised medicine: liquid biopsy collection, please contact the Lab on a Chip Editorial Office at loc-rsc@rsc.org  and provide a title and abstract of your proposed submission.
Articles will be published as they are accepted and collated into an online Thematic Collection, which will receive extensive promotion. Read the collection so far – http://rsc.li/liquid-biopsy 
Submissions for this collection are open from 1st September 2017 to 31st October 2018