We are pleased to announce the latest Thematic Collection in Lab on a Chip – Droplet-Based Single-Cell Sequencing!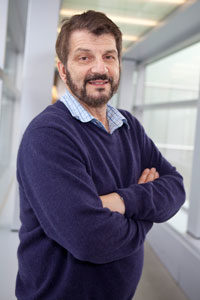 We are delighted that Lab on a Chip Advisory Board member David A Weitz (Harvard University, USA) is Thought Leader of this collection!
The field of droplet-based single-cell sequencing field has made increasing advances in recent years. Large numbers of studies are underway to collect and explore the new information that is now accessible with single-cell RNA-seq. Improvements to microfluidics are advancing rapidly and extensions to other sequencing methods are also being developed, enabling investigations to probe information beyond mRNA alone. This has rapidly become a burgeoning field, where microfluidic techniques are essential and where droplet-based microfluidics has enabled a major advance.
For more context, please read the editorials "Perspective on droplet-based-single cell sequencing" by David Weitz and "InDrops and Drop-seq technologies for single-cell sequencing" by Allon Klein and Evan Macosko.
The goal of this collection is to highlight the new advances in this growing field, with an emphasis on the interface between the technological advancements and high impact applications of droplet-based single-cell sequencing.
Read articles included in the collection so far at rsc.li/drop-sc-seq
Interested in submitting to the collection?
If you are interested in contributing to the droplet-based single-cell sequencing collection, please get in touch with the Lab on a Chip Editorial Office at loc-rsc@rsc.org and provide a title and abstract of your proposed submission.
Articles will be published as they are accepted and collated into an online Thematic Collection, which will receive extensive promotion.
Submissions for this collection are open from 15th July 2017 to 30th April 2018