We are delighted to announce that Aaron Wheeler is 2017 winner of the "Pioneers of Miniaturization" Lectureship!
The 12th "Pioneers of Miniaturization" Lectureship, sponsored by Dolomite and Lab on a Chip , is for early to mid-career scientists who have made extraordinary or outstanding contributions to the understanding or development of miniaturised systems.
This "Pioneers of Miniaturization" Lectureship will be presented to Aaron at the µTAS 2017 Conference in Georgia, USA on 22-26 October 2017. Aaron will receive a certificate, a monetary award and will give a short lecture during the conference.
Many congratulations to Professor Aaron Wheeler on this achievement from the Lab on a Chip!
About the Winner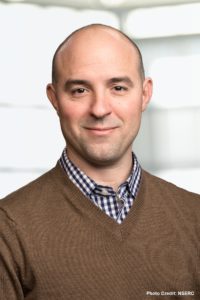 Aaron Wheeler earned his PhD in Chemistry at Stanford University in 2003. After a postdoctoral fellowship at UCLA, he joined the faculty at the University of Toronto in 2005, with primary appointment in the Department of Chemistry and cross-appointments in the Institute for Biomaterials and Biomedical Engineering and the Donnelly Centre for Cellular and Biomolecular Research.
Professor Wheeler has been recognized with a number of honours including the E.W.R. Steacie Memorial Fellowship from the Canadian National Sciences and Engineering Research Council, the Arthur F. Findeis Award from the American Chemical Society, and the Joseph Black Award from the Royal Society of Chemistry. He has authored more than 100 peer-reviewed publications and has served as Associate Editor of Lab on a Chip since 2013.
Wheeler's research group develops microfluidic tools to solve problems in chemistry, biology, and medicine. A key technology used by the group is digital microfluidics  (DMF), a technique in which fluidic droplets are manipulated on the surface of an array of electrodes coated with a hydrophobic insulator. In recent years DMF has matured into a highly enabling liquid-handling technology which has a strong foothold in several fields ranging from chemical synthesis to clinical sample analysis to tissue engineering.
Learn about the Wheeler group online http://microfluidics.utoronto.ca/ or on twitter at @Wheeler_Lab.