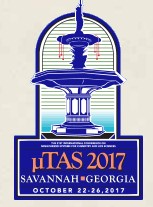 Lab on a Chip is pleased to announce the 2017 MicroTAS Video Competition in partnership with Dolomite Microfluidics and supported by μTAS and Chemical and Biological Microsystems Society (CBMS).
We invite registered μTAS participants to submit short videos (see terms and conditions below) that are either scientifically or educationally focused. Videos may be fun, artistic or just surprising and unusual in order to meet these criteria.
Dolomite Microfluidics, innovators in microfluidic solutions, are sponsoring this competition with the prize of $1500 worth of Dolomite equipment.
If you have an idea for a video that you would like to share with the μTAS community read the entry conditions below!
Deadline: 23rd October 2017
Terms and Conditions
Only participants registered for the MicroTAS conference can take part and submit videos.
Videos must be either scientific (demonstrating interesting aspects) or educational (enhancing understanding) with respect to micro- or nanofluidics.
Videos can be enhanced by audio, animations, or annotations.
Videos should be no longer than 2 minutes with a file size less than 25 Mbytes (please use appropriate video compression).
Videos must be viewable on a PC without special software (.mpg, .mp4, .mov, .avi or .wmv).
All videos are submitted on the basis that they may be used by LOC and/or CBMS for promotional purposes in any form.
Assessment by an international panel of judges will take place at MicroTAS 2017 and the judges' decision will be final.
The prize will be awarded at MicroTAS 2017, and a voucher for the equipment will be presented to the person submitting the winning entry.
The video submission deadline is the end of Monday, 23rd October, 2017 (Honolulu, Hawaii, USA time).
Video Award Submission Process – Easy 3 Step Process
Step 1. Sign-In to the Electronic Form Using Your Registration Number
Please have your Registration Number accessible. If you are unable to locate your Registration Number, please contact info@microtas2017.org.
Step 2. Fill in information on Electronic Submission Form
Please fill in information on the electronic submission form including title of image and your caption.
Step 3. Upload Your Video
All entries are to be submitted online via this website  as .mpg, .mp4, .mov, .avi or .wmv. Once your entry has been successfully uploaded and submitted, you will be given an entry number and you will be sent a confirmation email with the information you provided, minus the video. The ability to submit a video will close at the end of Monday, 23rd October 2017 (Honolulu, Hawaii, USA time).
Good Luck!
Previous winners:
MicroTAS 2016 Conference, Dublin, Ireland
Micropillars Chocolate Cake
Enrica Rollo
EPFL, Switzerland
MicroTAS 2015 Conference, Gyeongju, Korea
Spin Me Right Round
David Kinahan, Ducrée Labs, Dublin City University, Ireland
MicroTAS 2014 Conference, San Antonio, Texas, USA
Magnetotactic Bacteria
Tijmen Hageman, KIST Europe GmbH, Germany