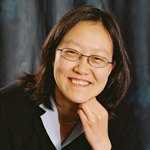 We are delighted to announce our new Associate Editor – Hang Lu!

Hang Lu is the Love Family Professor of Chemical and Biomolecular Engineering at Georgia Tech. She graduated summa cum laude from UIUC with a B.S. in Chemical Engineering, and obtained her Ph.D. in Chemical Engineering in 2003 from MIT working with Klavs Jensen and Martin Schmidt. Before starting at Georgia Tech in 2005, she was a postdoc with neurogeneticist Cori Bargmann at UCSF and Rockefeller U. Her current research interests are microfluidics and its applications in neurobiology, systems biology, cancer, and biotechnology.
Hang has previously been a member of the Lab on a Chip Advisory Board. You can read some of her recent publications in the Journal below.
Hang will be handling papers from 1st February 2017, so submit your best work to her!
Hydrogel-droplet microfluidic platform for high-resolution imaging and sorting of early larval Caenorhabditis elegans
Auillaume Aubry, Mei Zhan and Hang Lu
An automated programmable platform enabling multiplex dynamic stimuli delivery and cellular response monitoring for high-throughput suspension single-cell signaling studies
Luye He, Ariel Kniss, Adriana San-Miguel, Tel Rouse, Melissa L. Kemp and Hang Lu