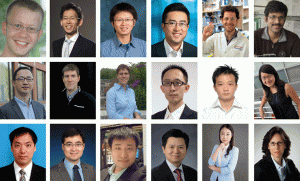 We are both proud and very pleased to introduce the 2016 edition of our Emerging Investigators issue, which celebrates the most promising and brightest amongst early career miniaturisation scientists around the world.
Guest editors Charles M. Schroeder, Sarah Köster and Yanyi Huang introduce the issue in their Editorial.
Emerging Investigators 2016: discovery science meets technology
DOI: 10.1039/C6LC90076C
Read the full collection online today: http://rsc.li/loc-emginv-16
Free* Access: AC electric field induced droplet deformation in a microfluidic T-junction
Communication
Heng-Dong Xi, Wei Guo, Michael Leniart, Zhuang Zhi Chong and Say Hwa Tan
Lab Chip, 2016,16, 2982-2986 DOI: 10.1039/C6LC00448B
Open Access: Arrayed water-in-oil droplet bilayers for membrance transport analysis
R. Watanabe, N. Soga, M. Hara and H. Noji
Lab Chip, 2016,16, 3043-3048
DOI: 10.1039/C6LC00155F
Free* Access: Cell-on-hydrogel platform made of agar and alginate for rapid, low-cost, multidimensional test of antimicrobial susceptibility
Han Sun, Zhengzhi Liu, Chong Hu and Kangning Ren
Lab Chip, 2016,16, 3130-3138
DOI: 10.1039/C6LC00417B
Free Access*: One-step immunoassay of C-reactive protein using droplet microfluidics
Matthew Y. H. Tang and Ho Cheung Shum
Lab Chip, 2016, Advance Article
DOI: 10.1039/C6LC01121G
*Access is free until 11 November 2016 via a registered RSC account.