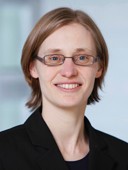 At Lab on a Chip we are very pleased to announce our newest Associate Editor – Petra Dittrich!
Petra is Associate Professor for Bioanalytics at the Department of Biosystems Science and Engineering. Her research in the field of lab-on-chip-technologies focuses on the miniaturization of high-sensitivity devices for chemical and biological analyses, and microfluidic-aided organization of materials.
Petra's research group develop miniaturized devices (lab-on-chip technology or microfluidics) for applications in the life sciences. Their interdisciplinary approach combines chemical, physical, biological and engineering aspects of microfluidics-based technology. You can find out more about her research on her homepage: http://www.dittrich.ethz.ch/
Petra is now handling papers so submit your paper to her today!