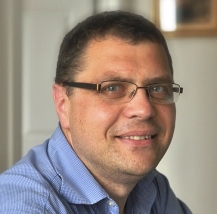 We are delighted to announce that Dr. Daniel Irimia is the winner of the 2016 "Pioneers of Miniaturization" Lectureship.
The 11th "Pioneers of Miniaturization" Lectureship, sponsored by Lab on a Chip and Corning Incorporated, and supported by the Chemical and Biological Microsystems Society (CBMS), is for early to mid-career scientists who have made extraordinary or outstanding contributions to the understanding or development of miniaturised systems.
This "Pioneers of Miniaturization" Lectureship will be presented to Daniel at the µTAS 2016 Conference in Dublin, Ireland, 9-13 October 2016. Daniel will receive a certificate, a monetary award and will give a short lecture during the conference.
Many congratulations to Dr. Daniel Irimia on this achievement from the Lab on a Chip team
About the winner
Dr. Daniel Irimia is a bioengineer trained as a physician and passionate about understanding the clinical consequences of neutrophil activities during disease. He received his Ph.D. in bioengineering from the University of Illinois, Chicago in 2002 before becoming a Research Fellow at Massachusetts General Hospital.
Daniel is currently an Associate Professor in Surgery and Bioengineering and Deputy Director of the BioMEMS Resource Center at the Center for Engineering in Medicine, USA. His research is focused on designing sophisticated tools to measure relevant neutrophil behavior with the highest precision. He leads a team of scientists and doctors that employ microfluidic devices and novel measurements of neutrophil functions to monitor burn patients, optimize treatments, and uncover neutrophil-targeting interventions that could prevent infections and sepsis in burn patients.
As the organizer of the Cell World Races, aimed at encouraging scientists and clinician-researchers to utilize microfluidic tools in their research for higher level of precision and detail, Daniel increases the awareness for the technological changes taking place in the field of cell motility. This has been featured on the front page of Wall Street Journal (March 2014) and in 2012 Daniel was one of the winners of the Wellcome Image Awards for the depiction of "Cancer cells in motion."
For more details on Dr. Daniel Irimia's research please visit his homepage.