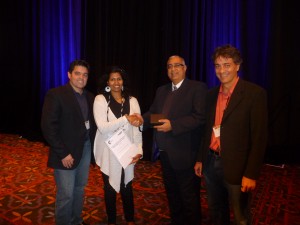 Congratulations to David Castro, winner of Under the Looking Glass: Art from the World of Small Science, sponsored by NIST and Lab on a Chip.
The winning photograph for the seventh annual art in science competition was announced last week at the µTAS 2014 Conference. The research group, from the King Abdullah University of Science and Technology (KAUST) in Saudi Arabia were presented with a certificate and a financial reward. Their photograph will be featured on the cover of an upcoming issue of Lab on a Chip. Make sure you don't miss it – register for our e-alerts now!
And the winning photograph is… THE SPHERE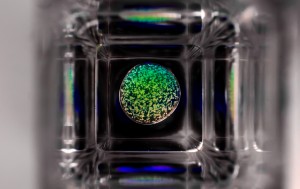 More about 'The Sphere'
Photographed by David Castro and David Conchouso, is the top view of a rotating 40uL aqueous droplet, suspended at the interface between two fluids, inside a square cuvette. The droplet contains an assay of functionalized latex beads, agglutinating in the presence of human C-reactive protein. This entry was selected as the winning photograph due to its aesthetic eye appeal, artistic allure and scientific merit.