Congratulations to Ali Khademhosseini, writer of the regular Lab on a Chip Research Highlights articles, who has this year received three prestigious research awards!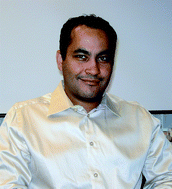 In June, he received the 2013 Owens Corning Early Career Award of the American Institute for Chemical Engineers (AIChE) for outstanding contributions in applying micro/nanoscale technologies to engineer functional biomaterials for regenerative medicine. This award recognizes outstanding independent contributions to the scientific, technological, or educational areas of materials science and engineering by a member of the Materials Engineering and Sciences Division of the AIChE under 40. The award will be presented at November's annual meeting of AIChE in San Francisco.
Professor Khademhosseini was also recently awarded the 2013 IEEE Engineering in Medicine and Biology Society's Technical Achievement Award. The award is given to recognize outstanding achievement, contribution and/or innovation in a technical area of biomedical engineering. He received the award at the annual EMBS meeting in Japan last week.
In April, we blogged to congratulate Ali on winning the Controlled Release Society Young Investigator award, which will be presented at the end of this month in Hawaii!
View some of Ali's recent Research Highlights articles here:
Research highlights
Imee G. Arcibal, Donald M. Cropek, Mehmet R. Dokmeci and Ali Khademhosseini 
DOI: 10.1039/C3LC90037A
Research highlights
João Ribas, Mark W. Tibbitt, Mehmet R. Dokmeci and Ali Khademhosseini
DOI: 10.1039/C3LC90032K
Research highlights
Šeila Selimović, Mehmet R. Dokmeci and Ali Khademhosseini
DOI: 10.1039/C3LC90025H
Research highlights
Šeila Selimović, Mark W. Tibbitt, Mehmet R. Dokmeci and Ali Khademhosseini
DOI: 10.1039/C3LC90018E