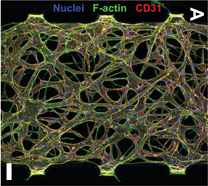 Professor Noo Li Jeon and co-workers from Seoul National University have published an important paper in Lab on a Chip about creating vascular networks in microfluidic devices. The networks are so well-developed that they can even be flushed with fluids and cells.
In the paper, the researchers describe a new method to culture endothelial cells in a microfluidic, three-dimensional environment. The endothelial cells form a network of microvessels within a few days. The researchers show that by adding other cell types to the culture, the network can be used to study specific interactions of vessels with connective tissue, tumor tissue and blood. The endothelial network is so mature that it can be flushed with medium without leakage and that the endothelial cells respond to the mechanical forces that result from the fluid flowing over their surface.
The perfusion is nicely illustrated in this movie from the paper, showing microbeads flowing from one side of the network (top) to the other (bottom).
Additionally, the devices give a lot of structural information about the microvessels, as can be seen in the above picture from the article. It shows an endothelial network in a microfluidic device, with fluorescent labels for cell nuclei, cytoskeletal actin fibers and the cell-cell adhesion molecule CD31. The network displays a branching morphology with clearly delineated vessels and high integrity.
Taken together, this is probably the most realistic laboratory model of the microvasculature to date. The versatility of the model is demonstrated by the extensive characterization of cell-cell interactions and the functional responses of endothelial cells to flow. The realism of the model, together with a high degree of control over many important cell culture parameters makes this model superior to many current laboratory models of microvascular networks.
In the future, these types of models will be useful for studying pathological blood vessel formation, for example by systematically changing the cell culture environment or by using patient-derived cells.
Engineering of functional, perfusable 3D microvascular networks on a chip
Sudong Kim, Hyunjae Lee, Minhwan Chunga and Noo Li Jeon
DOI: 10.1039/C3LC41320A
This article is from the themed collection Lab on a Chip Top 10%
Andries van der Meer, PhD, is a post-doctoral fellow at the Wyss Institute for Biologically Inspired Engineering, Harvard University, USA.