The winner of the 2012 Art in Science Award presented at October's MicroTas meeting was Yi Zhang, from Johns Hopkins University, USA and the striking winning image is featured on the outside front cover of Issue 8!
A description of the winning image and advice on what makes a worthy Art in Science submission are discussed in the editorial by Michael Gaitan from NIST, USA, and Harp Minhas, Editor of LOC, who were part of the award selection committee.
The Art in Science of microTAS
Michael Gaitan and Harp Minhas
DOI: 10.1039/C3LC90026F
---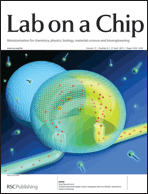 In keeping with the artistry of the front cover, work from Shoji Takeuchi
et al.
in Japan is featured on the inside front cover of Issue 8. In this paper, they address the problem of how to exchange the solution within a droplet for a new solution, for example to introduce membrane proteins or to wash-out applied chemicals during ion channel analysis. They use microfluidic channels to carry out solution exchange by droplet contact in under 20 seconds with the membrane still intact. Cover articles are free to access for 6 weeks*!
Droplet-based lipid bilayer system integrated with microfluidic channels for solution exchange
Yutaro Tsuji, Ryuji Kawano, Toshihisa Osaki, Koki Kamiya, Norihisa Miki and Shoji Takeuchi
DOI: 10.1039/C3LC41359D
---
The back cover features the laboratory of Sergey Shevkoplyas at
Tulane University
, USA. The communication by this laboratory describes their simple point-of-care test for sickle cell disease using characteristic patterns made by blood samples on paper, which can even differentiate between sickle cell disease and those healthy people with sickle cell traits.
A simple, rapid, low-cost diagnostic test for sickle cell disease
Xiaoxi Yang, Julie Kanter, Nathaniel Z. Piety, Melody S. Benton, Seth M. Vignes and Sergey S. Shevkoplyas
DOI: 10.1039/C3LC41302K
---
This issue also includes plenty of HOT research and a focus article from Tony Huang on the more unconventional applications of microfluidics:
Unconventional microfluidics: expanding the discipline
Ahmad Ahsan Nawaz, Xiaole Mao, Zackary S. Stratton and Tony Jun Huang
DOI: 10.1039/C3LC90023A
Programmable parylene-C bonding layer fluorescence for storing information on microfluidic chips
Ata Tuna Ciftlik, Diego Gabriel Dupouy and Martin A. M. Gijs
DOI: 10.1039/C3LC41280F
Engineering of functional, perfusable 3D microvascular networks on a chip
Sudong Kim, Hyunjae Lee, Minhwan Chung and Noo Li Jeon
DOI: 10.1039/C3LC41320A
In situ synthesis of silver nanoparticle decorated vertical nanowalls in a microfluidic device for ultrasensitive in-channel SERS sensing
Joseph Parisi, Liang Su and Yu Lei
DOI: 10.1039/C3LC41249K