The enzyme-linked immunosorbent assay (ELISA) is a complex biochemical test used as a diagnostic tool for the detection of, for example, HIV, hepatitis viruses, malaria and E. coli infections. Although it is extremely useful and versatile, many of its features limit its utility: the assay itself is complicated, the reagents expensive, and robotic instrumentation is usually needed to perform experiments with high-throughput.
Microfluidic chips provide solutions to some of these problems. They can be used as portable devices; they are much faster than traditional laboratory equipment and use less of the reagents. Until a few years ago, however, their construction was cumbersome: they were made from organic polymers and their manufacturing was tricky and still quite expensive.
That changed when George Whitesides's group in their Lab on a Chip article (Whitesides et al., Lab Chip, 2008, 8, 2146-2150) proposed that microfluidic chips can be made from paper rapidly and at low cost. Since then many methods of cheap production of paper microchips have been developed.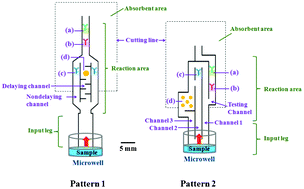 In this recent article published in Lab on a Chip, Yuzuru Takamura and his colleagues from the Japan Advanced Institute of Science and Technology (JAIST) explain how simple microfluidic devices constructed by polymer-printing of the chip design on the sheet of nitrocellulose can be used to perform ELISA.
In normal ELISA, test multiple chemical reactions are separated by steps of rinsing. In his device Takamura separates reactions spatially: he deposits the antibodies required for subsequent steps along the main short channel and the substrate needed for the readout reaction in a longer side branch of the channel. When the sample solution travels through the chip, it first reacts with the enzyme-linked antibody; then this complex is caught by another antibody. Finally, the solution which travelled through the longer channel brings the substrate, which reacts with the enzyme and gives a color product – the observed signal. Thus, the rinsing steps are eliminated and the use of expensive antibodies limited to the minimum.
Takamura and colleagues demonstrate the application of this cheap, quick to make and easy to use ELISA-chip to the estimation of the levels of a known pregnancy hormone in urine. The possibilities of these devices, however, reach far beyond a simple pregnancy test: they may soon become a cheap detection tool for many diseases troubling developing countries.
This HOT article is free to access for 4 weeks*, just click on the link below:
Development of automated paper-based devices for sequential multistep sandwich enzyme-linked immunosorbent assays using inkjet printing
Amara Apilux, Yoshiaki Ukita, Miyuki Chikae, Orawon Chailapakul and Yuzuru Takamura
DOI: 10.1039/C2LC40690J
*Free access to individuals is provided through an RSC Publishing personal account. Registration is quick, free and simple
Published on behalf of Rafal Marszalek, Molecular BioSystems web science writer. Rafal is an Assistant Editor of Genome Biology at BioMed Central