Welcome to Issue 2 of Lab on a Chip! This issue features the winner of the Lab on a Chip Pioneers of Miniaturisation Lectureship, Andrew deMello, on the back cover. Read more about this award and others given at MicroTAS here.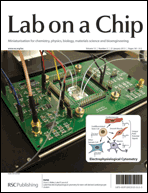 On the front cover of issue 2 is featured work from the group of Luke Lee at the University of California, Berkeley, in conjunction with colleagues at Stanford University.
In the paper, the authors use a 'non-genetic, label-free cell cytometry method based on electrophysiological response to stimulus' to sort undifferentiated stem cells from heterogeneous stem cell progeny.
The cell cytometer can identify human induced pluripotent stem cell-derived cardiomyocyte clusters from their extracellular field potential signals – these stem cells can then be used for various stem cell therapies.
Label-free electrophysiological cytometry for stem cell-derived cardiomyocyte clusters
Frank B. Myers, Christopher K. Zarins, Oscar J. Abilez and Luke P. Lee
DOI: 10.1039/C2LC40905D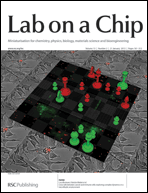 Work from the Italian National Research Council – Institute for Photonics and Nanotechnologies and the Istituto Superiore di Sanità is featured on the inside front cover.
The groups, led by Fabrizio Mattei and Luca Businaro, have used an on-chip co-culture system to investigate interactions between cancer cells and a host's immune system.
Cross talk between cancer and immune cells: exploring complex dynamics in a microfluidic environment
Luca Businaro, Adele De Ninno, Giovanna Schiavoni, Valeria Lucarini, Gabriele Ciasca, Annamaria Gerardino, Filippo Belardelli, Lucia Gabriele and Fabrizio Mattei
DOI: 10.1039/C2LC40887B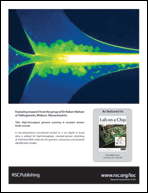 On the inside back cover, work from Robert Meltzer and co-workers at Pathogenetix, Inc. is featured.
In their paper, they present a novel compound funnel design for use with Genome Sequence Scanning (GSS) technology, which improves molecule throughput.
High-throughput genome scanning in constant tension fluidic funnels
Joshua W. Griffis, Ekaterina Protozanova, Douglas B. Cameron and Robert H. Meltzer
DOI: 10.1039/C2LC40943G
As with all our cover articles these are free to access for 6 weeks (following a simple registration for an RSC Publishing account).
Other HOT articles featured in the issue include:
Benchtop fabrication of microfluidic systems based on curable polymers with improved solvent compatibility
Michinao Hashimoto, Robert Langer and Daniel S. Kohane
DOI: 10.1039/C2LC40888K
Microfluidic assisted self-assembly of chitosan based nanoparticles as drug delivery agents
Fatemeh Sadat Majedi, Mohammad Mahdi Hasani-Sadrabadi, Shahriar Hojjati Emami, Mohammad Ali Shokrgozar, Jules John VanDersarl, Erfan Dashtimoghadam, Arnaud Bertsch and Philippe Renaud
DOI: 10.1039/C2LC41045A
Microfluidic devices for X-ray studies on hydrated cells
Britta Weinhausen and Sarah Köster
DOI: 10.1039/C2LC41014A
For even more exciting microfluidics research, read the full issue here.