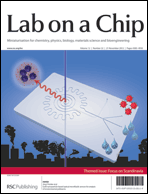 Issue 22 of Lab on a Chip features work from Scandinavia – read the editorial from the Guest Editors Professors Thomas Laurell and Jörg Kutter here. The issue features 8 articles from Scandinavian authors, and profiles of the athours included can be found here.
The front cover features work from Jörg Kutter and co-workers at the Technical University of Denmark, reporting on the optical properties of gold nanoparticle probes, used as sensors for environmental contaminants.
Gold nanoparticle-based optical microfluidic sensors for analysis of environmental pollutants
Josiane P. Lafleur, Silja Senkbeil, Thomas G. Jensen and Jörg P. Kutter
DOI: 10.1039/C2LC40543A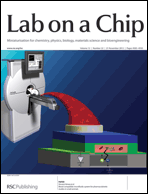 Artwork linked to research from Vincent Aimez and colleagues from the Université de Sherbrooke can be seen on the inside front cover of the issue – they have developed a microfluidic device to monitor the radioactivity concentration in the blood of rats and mice in real time.
Blood compatible microfluidic system for pharmacokinetic studies in small animals
Laurence Convert, Frédérique Girard Baril, Vincent Boisselle, Jean-François Pratte, Réjean Fontaine, Roger Lecomte, Paul G. Charette and Vincent Aimez
DOI: 10.1039/C2LC40550D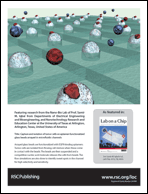 The back cover of the issue features work from Samir Iqbal and co-workers at the University of Texas and Lehigh University. The team designed a Hele-Shaw device with aptamer functionalized glass beads to isolate cancer cells from a cellular mixture.
Capture, isolation and release of cancer cells with aptamer-functionalized glass bead array
Yuan Wan, Yaling Liu, Peter B. Allen, Waseem Asghar, M. Arif Iftakher Mahmood, Jifu Tan, Holli Duhon, Young-tae Kim, Andrew D. Ellington and Samir M. Iqbal
DOI: 10.1039/C2LC21251J
Other HOT papers in the issue include:
Two-hundredfold volume concentration of dilute cell and particle suspensions using chip integrated multistage acoustophoresis
Maria Nordin and Thomas Laurell
DOI: 10.1039/C2LC40629B
Inertial microfluidics in parallel channels for high-throughput applications
Jonas Hansson, J. Mikael Karlsson, Tommy Haraldsson, Hjalmar Brismar, W. van der Wijngaart and Aman Russom
DOI: 10.1039/C2LC40241F
Low cost integration of 3D-electrode structures into microfluidic devices by replica molding
Benjamin Mustin and Boris Stoeber
DOI: 10.1039/C2LC40728K
A microfluidic device with removable packaging for the real time visualisation of intracellular effects of nanosecond electrical pulses on adherent cells
C. Dalmay, M. A. De Menorval, O. Français, L. M. Mir and B. Le Pioufle
DOI: 10.1039/C2LC40857K
Programmable microfluidic synthesis of spectrally encoded microspheres
R. E. Gerver, R. Gómez-Sjöberg, B. C. Baxter, K. S. Thorn, P. M. Fordyce, C. A. Diaz-Botia, B. A. Helms and J. L. DeRisi
DOI: 10.1039/C2LC40699C