To coincide with the Organs on Chips: Human Disease Models meeting being held at the Lorentz Center, The Netherlands, 24th – 28th September, Lab on a Chip and Integrative Biology are delighted to bring you a free* collection of articles on organ-on-chip research.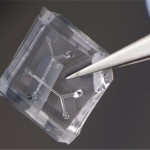 These articles will only be available until October 8th so hurry, don't miss out!
*Free access is provided to subscribing institutions or to individuals through an RSC Publishing Personal Account. Registration is quick and easy at http://pubs.rsc.org/en/account/register.