We've got another jam-packed issue for you this week, with some colourful articles on the cover from Lee Hubble, Jochen Hoffman and Helena Zec.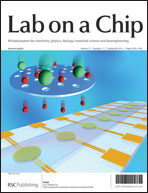 On the outside front cover Lee Hubble from CSIRO and colleagues have used functionalised gold nanoparticle chemiresistor sensors to simultaneously perform on-chip protein separation and metabolite detection in biofluids. They were able to avoid problems of protein and lipid-fouling by using ultrafiltration membranes to prevent large molecules interacting with the golf nanoparticle chemiresitor sensors:
Gold nanoparticle chemiresistors operating in biological fluids
Lee J. Hubble, Edith Chow, James S. Cooper, Melissa Webster, Karl-Heinz Müller, Lech Wieczorek and Burkhard Raguse
DOI: 10.1039/C2LC40575J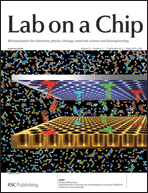 The inside front cover from Jochen Hoffman and colleagues at University of Freiburg demonstrates an method that combines large scale picowell array-based  liquid phase PCR amplification with solid phase PCR.  The authors have immobilised the PCR products on a microscope slide to enable recovery and achieved single DNA molecule amplification:
Solid-phase PCR in a picowell array for immobilizing and arraying 100 000 PCR products to a microscope slide
Jochen Hoffmann,  Martin Trotter,  Felix von Stetten,  Roland Zengerle and Günter Roth
DOI: 10.1039/C2LC40534B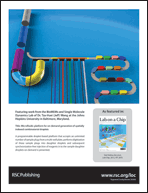 And on the back cover Helena Zec and colleagues present a droplet platform for generating nanolitre droplets of combinational mixtures.  Sample plugs from a multiwell are split into nanolitre droplets which can be injected with four different reagents – in this paper, food colouring, to prove their concept.  Due to the automatic spatial indexing of the droplets, droplet barcoding is not necessary.
Microfluidic platform for on-demand generation of spatially indexed combinatorial droplets
Helena Zec, Tushar D. Rane and Tza-Huei Wang
DOI: 10.1039/C2LC40399D
Also in this issue we have the latest Research Highlights from Ali Khademhosseini to keep you up to date with the most important miniaturisation research, Acoustofluidics number 17 from Michael Gedge and Martyn Hill and an interesting Focus article from Samuel Stavis on testing standards for lab on a chip devices, as well as plenty of HOT articles.
Ps. Don't forget all our cover articles are free to access for 6 weeks following a simple registration!