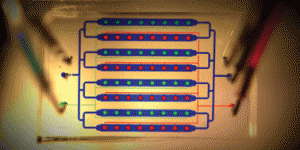 Yanyi Huang and colleagues at Peking University have developed a microfluidic-based assay to allow them to quantitatively measure single cell migration speeds.  Existing methods for determining cell migration are abundant, as the process is important for processes such as cancer metastasis, embryonic development and wound healing, but it is very difficult to distinguish between migrating and proliferating cells in current assays.
Using their migration assay, Huang and colleagues were able to show that HUVEC migration is epigenetically regulated:
Live cell imaging analysis of the epigenetic regulation of the human endothelial cell migration at single-cell resolution
Chunhong Zheng, Zhilong Yu, Ying Zhou, Louis Tao, Yuhong Pang, Tao Chen, Xiannian Zhang, Haiwei Qiu, Hongwei Zhou, Zitian Chen and Yanyi Huang
DOI: 10.1039/C2LC40192D
As with all our HOT articles, this one is free to access for 4 weeks following a simple registration.
Also check out the video showing their device in operation: