We've got some great artwork on the covers of Issue 16,  on topics from particle focusing to creating 3D capillary networks and cell signalling.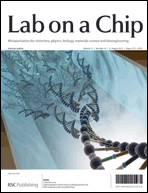 On the outside front cover we have a HOT article from Ju Min Kim et al who have achieved viscoelasticity-driven focusing of particles as small as 200 nm – a technique which had previously only been achieved with micron-sized particles.  The team also showed that DNA focusing is significantly enhanced by medium viscoelasticity and that the focussing of both the colloidal particles and DNA is dependant on length.
Lateral migration and focusing of colloidal particles and DNA molecules under viscoelastic flow
Jae Young Kim, Sung Won Ahn, Sung Sik Lee and Ju Min Kim
DOI: 10.1039/C2LC40147A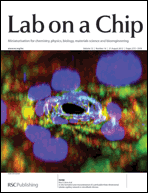 On the inside front cover is another HOT article from Noo Li Jeon and colleagues at Seoul University who have designed a 3D array of perfusable capillaries from HUVECs.  The the capillary network can be grown on the microfluidic device in 3-4 days and the authors hope will not only be useful for basic angiogenesis research but also drug screening applications.
In vitro formation and characterization of a perfusable three-dimensional tubular capillary network in microfluidic devices
Ju Hun Yeon, Hyun Ryul Ryu, Minhwan Chung, Qing Ping Hu and Noo Li Jeon
DOI: 10.1039/C2LC40131B
Last but not least, on the back cover is research from Anup Singh and colleagues at Sandia National Laboratory who have developed a chip that enables dynamic monitoring of an entire cell signalling pathway in a single experiment, by combining cell culture, stimulation, and preparation for analysis by multicolor flow cytometry and fluorescence imaging in one device.
Microfluidically-unified cell culture, sample preparation, imaging and flow cytometry for measurement of cell signaling pathways with single cell resolution
Meiye Wu, Thomas D. Perroud, Nimisha Srivastava, Catherine S. Branda, Kenneth L. Sale, Bryan D. Carson, Kamlesh D. Patel, Steven S. Branda and Anup K. Singh
DOI: 10.1039/C2LC40344G
As with all our cover articles these are free to access for 6 weeks (following a simple registration for an RSC Publishing account).
For more exciting miniaturisation research take a look at the rest of the issue