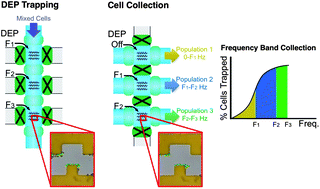 This week's HOT article comes from our Associate Editor, Professor Abraham Lee, along with Javier Prieto and their coworkers from the University of California. The paper introduces a device that uses dielectrophoretic principles for the characterisation and isolation of sub-populations of cells.
Using the automated dielectrophoretic assisted cell sorting (DACS) device, the group were able to enrich the neurons from a population of neural stem/progenitor cells and neurons using multiple discrete frequency bands, rather than at single frequencies.
The authors also used Monte-Carlo simulations to study the dielectric dispersions within the heterogeneous cell population, allowing them to predict the sorting efficiency of the device according to the trapping behaviour of different cell populations at different frequencies. This information was used to decide the optimal parameters with which to carry out the neuronal sorting, resulting in a 1.4-fold neuronal enrichment.
Frequency discretization in dielectrophoretic assisted cell sorting arrays to isolate neural cells
Javier L. Prieto,  Jente Lu,  Jamison L. Nourse,  Lisa A. Flanagan and Abraham P. Lee
DOI: 10.1039/C2LC21184J
All our hot articles are free to access for four weeks (following a simple registration for individual users).