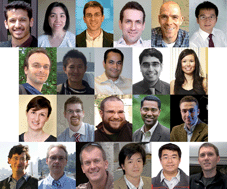 Lab on a Chip will again be publishing a themed issue dedicated to the work of Emerging Investigators, guested edited by Professors Amy Herr and Aaron Wheeler, with the aim of giving wide-spread exposure to current advances from new investigators and stimulate further progress in the field based on these new advances.
We are inviting promising researchers, to contribute original research in their own areas of expertise to make a valuable addition to the current literature via this exciting project. The Emerging Investigators themed issue will focus on technical contributions made by investigators who started their first independent position (e.g., Assistant Professor) within the last seven years.
We are hoping that you will be able to make a contribution of original, unpublished work conducted in your independent laboratory for this issue.
For an example of a previous Emerging Investigators issue, please see here.
The final submission deadline for manuscripts will be April 30, 2012, with the aim of publication to coincide with µTAS 2012, in late-October 2012. If you would like more information, or wish to contribute to this exciting issue, please contact the Lab on a Chip Editorial Office.