Read on for a quick round up of four HOT articles published recently in Lab on a Chip:

Sung-Gyu Park and colleagues from the University of Minnesota present a nanofence array for DNA electrophoresis that requires no direct-write nanopatterning.
DNA electrophoresis in a nanofence array
Sung-Gyu Park, Daniel W. Olson and Kevin D. Dorfman
DOI: 10.1039/C2LC00016D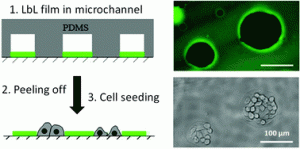 Narayanan Madaboosi et al. demonstrate the micropatterning of soft films using a microfluidic device for selective cell growth.
Microfluidics meets soft layer-by-layer films: selective cell growth in 3D polymer architectures
Narayanan Madaboosi, Katja Uhlig, Stephan Schmidt, Magnus S. Jäger, Helmuth Möhwald, Claus Duschl and Dmitry V. Volodkin
DOI: 10.1039/C2LC40058H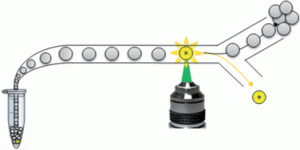 Mira T. Guo et al. at Harvard University present a critical review focusing on droplet microfluidics, and the advantages offered for biological assays.
Droplet microfluidics for high-throughput biological assays
Mira T. Guo, Assaf Rotem, John A. Heyman and David A. Weitz
DOI: 10.1039/C2LC21147E

Eugene J. Lim and colleagues demonstrate the use of particle trajectory analysis to observe the inertial focusing behaviour of a range of particles and cells (including prostate cancer cells) in blood.
Visualization of microscale particle focusing in diluted and whole blood using particle trajectory analysis
Eugene J. Lim, Thomas J. Ober, Jon F. Edd, Gareth H. McKinley and Mehmet Toner
DOI: 10.1039/C2LC21100A
These HOT articles are free to access for the next four weeks (following a simple registration for individual users), so why not take a look?