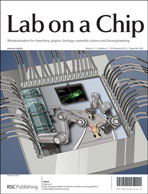 Issue 4 is now available online and on the outside front cover we have a hot article from on an automated cellular-resolution vertebrate screening platform from Mehmet Fatih Yanik and an equally exciting image to accompany it!
Fully automated cellular-resolution vertebrate screening platform with parallel animal processing
Tsung-Yao Chang, Carlos Pardo-Martin, Amin Allalou, Carolina Wählby and Mehmet Fatih Yanik
DOI: 10.1039/C1LC20849G
On the inside front cover is another hot article, this time from Katsuo Kurabayashi who has developed a vapor preconcentrator/injector for microscale GC.
Microfabricated passive vapor preconcentrator/injector designed for microscale gas chromatography
Jung Hwan Seo, Sun Kyu Kim, Edward T. Zellers and Katsuo Kurabayashi
DOI: 10.1039/C2LC20932B
The issue also features a whole host of hot articles on topics from education to droplets, which will be free to access for 4 weeks:
Education: a microfluidic platform for university-level analytical chemistry laboratories
Jesse Greener, Ethan Tumarkin, Michael Debono, Andrew P. Dicks and Eugenia Kumacheva
DOI: 10.1039/C2LC20951A

Self-propelling surfactant droplets in chemically-confined microfluidics – cargo transport, drop-splitting and trajectory control
David K. N. Sinz and Anton A. Darhuber
DOI: 10.1039/C2LC21082G
Droplet-based microfluidic device for multiple-droplet clustering
Jing Xu, Byungwook Ahn, Hun Lee, Linfeng Xu, Kangsun Lee, Rajagopal Panchapakesan and Kwang W. Oh
DOI: 10.1039/C2LC20883K

Quick genotyping detection of HBV by giant magnetoresistive biochip combined with PCR and line probe assay
Xiao Zhi, Qingsheng Liu, Xin Zhang, Yixia Zhang, Jie Feng and Daxiang Cui
DOI: 10.1039/C2LC20949G

Rapid prototyping of three-dimensional microfluidic mixers in glass by femtosecond laser direct writing
Yang Liao, Jiangxin Song, En Li, Yong Luo, Yinglong Shen, Danping Chen, Ya Cheng, Zhizhan Xu, Koji Sugioka and Katsumi Midorikawa
DOI: 10.1039/C2LC21015K
Ultrahigh sensitivity assays for human cardiac troponin I using TiO2 nanotube arrays
Piyush Kar, Archana Pandey, John J. Greer and Karthik Shankar
DOI: 10.1039/C2LC20892J
Also, take a look at the latest article in our acoustofluidics series – Building microfluidic acoustic resonators.