Welcome to the final issue of 2011!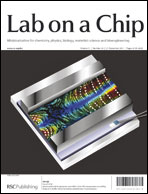 On the front cover of Issue 24 we have an article from Per Augustsson et al., who have developed a platform for micro particle image velocimetry (μPIV) for analyzing two-dimensional acoustophoresis.  The device is automated, temperature-stable and has uncertainties below 5% and is therefore able to conduct high-precision measurement of the acoustophoretic velocity field in microchannels.
Automated and temperature-controlled micro-PIV measurements enabling long-term-stable microchannel acoustophoresis characterization
Per Augustsson, Rune Barnkob, Steven T. Wereley, Henrik Bruus and Thomas Laurell
DOI: 10.1039/C1LC20637K
---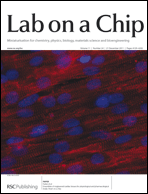 The inside front cover highlights the article from Kevin Kit Parker and colleagues that recently featured in Chemistry World.  The article describes a 'heart on a chip', exploiting muscular thin film technology to measure contractility and the effect of cell architecture on tissue contraction.
Ensembles of engineered cardiac tissues for physiological and pharmacological study: Heart on a chip
Anna Grosberg, Patrick W. Alford, Megan L. McCain and Kevin Kit Parker
DOI: 10.1039/C1LC20557A
Also in this issue is the latest Research Highlights article from Ali Khademhosseini, and a Focus article on droplet microfluidics for protein engineering and analysis from Helene Andersson Svahn and Haakan Joensson.