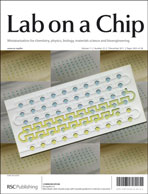 The front cover of Issue 23 shows work from Meng Sun et al. who have produced a static droplet array with the capability for tunable concentration gradients.   Their technique involves the controlled exchange of materials between moving plugs and stationary drops, and the concentration of soluble reagents can be varied from drop to drop  at well-defined time points.
Microfluidic static droplet arrays with tuneable gradients in material composition
Meng Sun, Swastika S. Bithi and Siva A. Vanapalli
DOI: 10.1039/C1LC20709A
---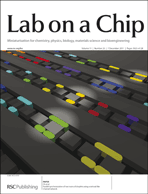 On the inside front cover we have an image from Kwang Oh and coworkers describing their method for droplet combination in microfluidic devices that allows passive parallel synchronisation.  They describe the layout as being analogous to a train track, as the network consists of a top channel, a bottom channel, and ladder-like connections between the two main channels.
Parallel synchronization of two trains of droplets using a railroad-like channel network
Byungwook Ahn, Kangsun Lee, Hun Lee, Rajagopal Panchapakesan and Kwang W. Oh
DOI: 10.1039/C1LC20690G
---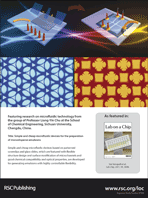 The back cover highlights work from Nan-Nan Deng et al on the economical production of microfluidic devices for monodisperse droplet formation.  The simple device fabrication, using inexpensive tools and supplies, is flexible, offering easy spatial patterning of surface wettability, and good chemical compatibility and optical properties.
Simple and cheap microfluidic devices for the preparation of monodisperse emulsions
Nan-Nan Deng, Zhi-Jun Meng, Rui Xie, Xiao-Jie Ju, Chuan-Lin Mou, Wei Wang and Liang-Ying Chu
DOI: 10.1039/C1LC20629J
View the rest of the issue online here, which including all our latest hot articles on a micro-hydrocyclone for particle separation, sustainable microinjection moulding, broadband for droplets, clinical-scale bubble production and streaming potential for energy