On the cover of Issue 20 we have hot articles from Ye and Demirci et al., Liu and Kokini et al. and Ren and Wu et al.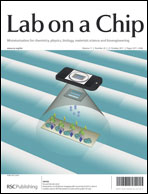 The outside front cover depicts Bin Ye and Utkan Demirci's paper where they have demonstrated that a mobile phone can be used to image and process the results of an ELISA (enzyme-linked immunosorbent assay) test on a microchip, reducing previously bulky equipment to a size where it could be used at the bedside.
Integration of cell phone imaging with microchip ELISA to detect ovarian cancer HE4 biomarker in urine at the point-of-care
ShuQi. Wang, Xiaohu Zhao, Imran Khimji, Ragip Akbas, Weiliang Qiu, Dale Edwards, Daniel W. Cramer, Bin Ye and Utkan Demirci
Lab Chip, 2011, 11, 3411-3418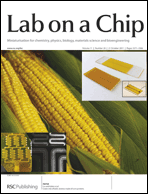 The inside front cover highlights green microfluidic research from Gang Logan Liu and Jozef L. Kokini, where they have used a by-product from corn – zein – instead of the traditional plastics to produce a microfluidic device.  This article was also highlighted in Chemistry World.
Green microfluidic devices made of corn proteins
Jarupat Luecha, Austin Hsiao, Serena Brodsky, Gang Logan Liu and Jozef L. Kokini
Lab Chip, 2011, 11, 3419-3425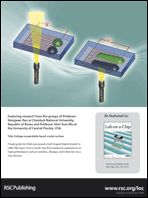 And on the back cover is work from Hongwen Ren and Shin-Tson Wu where they report a novel approach which can extensively spread a liquid crystal interface, which opens a route to new voltage controllable, polarization-insensitive, and broadband liquid photonic devices.
Voltage-expandable liquid crystal surface
Hongwen Ren, Su Xu and Shin-Tson Wu
Lab Chip, 2011, 11, 3426-3430