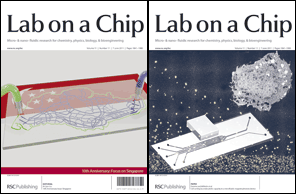 As part of our 10th anniversary series we are delighted to publish this issue which includes a collection of articles focussed on lab on a chip research in Singapore.
Read guest editor Ai-Qun Liu's editorial, which introduces this themed issue dedicated to the memory of Professor Zhao-Lun Fang, formerly of the Zhe Jiang University, and check out the author profiles from Yi-Chin Toh, Tae Goo Kang, Danny van Noort, Bill Burkholder and Jing Bo Zhang.
The issue also includes plenty of regular content, and a HOT article on the inside front cover from Claire Wilhelm and Nicole Pamme on cell sorting by endocytotic capacity in a microfluidic magnetophoresis device.