LOC issue 4 is now available to view online here.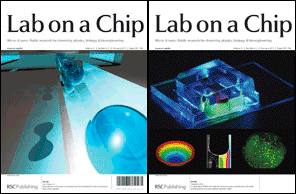 The cover articles by Volkert van Steijn (Delft University of Technology) and Shuichi Takayama (University of Michigan) on monodisperse hydrogel microspheres and cell death & detachment in a microfluidic alveolar model, respectively, are both free to access for 6 weeks.
The issue also features a tutorial review by Mazher-Iqbal Mohammed and Marc Desmulliez (Heriot-Watt University) on miniature biosensor technologies for cardiac biomarkers and a host of HOT papers.
Monodisperse hydrogel microspheres by forced droplet formation in aqueous two-phase systems
Iwona Ziemecka, Volkert van Steijn, Ger J. M. Koper, Michel Rosso, Aurelie M. Brizard, Jan H. van Esch and Michiel T. Kreutzer
Lab Chip, 2011, 11, 620-624
DOI: 10.1039/C0LC00375A
Combination of fluid and solid mechanical stresses contribute to cell death and detachment in a microfluidic alveolar model
Nicholas J. Douville, Parsa Zamankhan, Yi-Chung Tung, Ran Li, Benjamin L. Vaughan, Cheng-Feng Tai, Joshua White, Paul J. Christensen, James B. Grotberg and Shuichi Takayama
Lab Chip, 2011, 11, 609-619
DOI: 10.1039/C0LC00251H