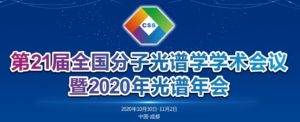 The 21st National Conference on Molecular Spectroscopy was held Oct 30-Nov 2, 2020, at Sichuan University, China.
Our journal, Journal of Analytical Atomic Spectrometry (JAAS) was happy to award four poster awards at the conference, with prizes including a £100 RSC book e-voucher and a certificate.
Congratulations to the winners!
Aihua Gao, School of Physics, Northwest University
Title: Spectral analysis during the Dye Wastewater Safranine T Degradation by Atmospheric Glow Discharge

Lihua Wang, Shimadzu CO. LTD
Title: Qualitative and quantitative analysis of plastic beads in personal care products
Zili Huang, College of Chemistry, Sichuan University
Title: Single Particle ICP-MS Based Combined-Biomarkers Strategy for Pancreatic Cancer Prognosis
Ziyan Li, Analytical & Testing Center, Sichuan University
Title: Mass Spectrometric Assay of Alpha-Fetoprotein Isoforms for Accurate Serological Evaluation