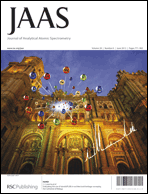 A great new issue of JAAS is now available online! Take a look at our brilliant covers and enjoy the latest research in the field of atomic spectrometry in cultural heritage and geology analyses.
Our beautiful outside front cover shows the front facade of the Cathedral of Malaga, one of the best architectural features of the region of Andalusia in Spain. Researchers at the University of Malaga analysed the materials composing the main facade and the pollutants present on the surface by laser-induced breakdown spectroscopy (LIBS). Using this technique, they were able to thoroughly characterise the sandstones, marbles and metals composing the most highlighted section of the main facade and identified the most relevant pollutants that are damaging the appearance of this historical building.
Evaluating the use of standoff LIBS in architectural heritage: surveying the Cathedral of Málaga
I. Gaona, P. Lucena, J. Moros, F. J. Fortes, S. Guirado, J. Serrano and   J. J. Laserna 
J. Anal. At. Spectrom., 2013,28, 810-820
DOI: 10.1039/C3JA50069A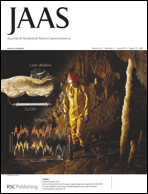 The inside front cover of this issue introduces the work of Detlef Gunther and colleagues at the Swiss Federal institute of Technology, ETH, Switzerland. In their paper, the researchers used laser ablation inductively coupled plasma mass spectrometry for quantitative analysis of element content in solid material. In particular, they designed and optimised a large-capacity gas exchange device (Q-GED) and demonstrated its efficiency on large stalagmite samples.
Aerosol entrainment and a large-capacity gas exchange device (Q-GED) for laser ablation inductively coupled plasma mass spectrometry in atmospheric pressure air
Daniel Tabersky, Kohei Nishiguchi, Keisuke Utani, Masaki Ohata, Rolf Dietiker, Mattias B. Fricker, Ivo M. de Maddalena, Joachim Koch and Detlef Günther
J. Anal. At. Spectrom., 2013,28, 831-842
DOI: 10.1039/C3JA50044F
Along with the new covers of the issue, here are some selected HOT articles free for you to enjoy until June 10th. Click on the links below:
Trace element analysis of human urine collected after administration of Gd-based MRI contrast agents: characterizing spectral interferences using inorganic mass spectrometry
Amy J. Steuerwald, Patrick J. Parsons, John G. Arnason, Zhen Chen, C. Matthew Petersond and   Germaine M. Buck Louis  
J. Anal. At. Spectrom., 2013,28, 821-830
DOI: 10.1039/C3JA30331D
Comparative oxidation state specific analysis of arsenic species by high-performance liquid chromatography-inductively coupled plasma-mass spectrometry and hydride generation-cryotrapping-atomic absorption spectrometry
Jenna M. Currier, R. Jesse Saunders, Lan Ding, Wanda Bodnar, Peter Cable, Tomáš Matoušek, John T. Creed and   Miroslav Stýblo
J. Anal. At. Spectrom., 2013,28, 843-852
DOI: 10.1039/C3JA30380B
Platinum stable isotope ratio measurements by double-spike multiple collector ICPMS
John Creech, Joel Baker, Monica Handler, Martin Schiller and   Martin Bizzarro  
J. Anal. At. Spectrom., 2013,28, 853-865
DOI: 10.1039/C3JA50022E