Congratulations to JAAS Chair Heidi Goenaga-Infante on winning the European Award for Plasma Spectrochemistry!
---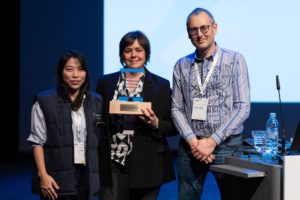 The European Award for Plasma Spectrochemistry, which promotes analytical plasma spectrochemical developments and applications in Europe, is awarded for a single outstanding piece of work or for continued important contributions in the field.
The award, sponsored by Agilent Technologies, was presented to Heidi Goenaga-Infante at the recent European Winter Conference on Plasma Spectrochemistry in recognition of her substantial contributions to novel fractionation analysis techniques in the areas of elemental speciation, metallomics and nanomaterials characterization
Chief scientist at the National Measurement Laboratory (NML), Heidi is also a principal scientist and team leader of the Inorganic Analysis team with research focussed on trace element and speciation analysis, metallomics research, the characterisation of nanomaterials, high accuracy isotope ratio analysis, quantitative elemental bio-imaging and the characterisation of 'speciated' reference materials and standards.
Read Heidi's latest article in JAAS here: A systematic study of high resolution multielemental quantitative bioimaging of animal tissue using LA-ICP-TOFMS J. Anal. At. Spectrom., 2023, Advance Article