Young Analytical Scientists
---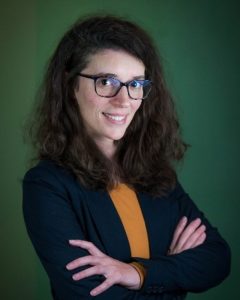 JAAS is excited to introduce Milica Velimirovic as one of our Young Analytical Scientists.
Milica Velimirovic obtained a PhD degree in Applied biological science in 2013 from the University of Antwerp. Between 2013 and 2018 she held a post-doctoral position at University of Vienna (Austria) where her work focused on the development of field flow fractionation hyphenated to ICP-MS to support the implementation of the EC recommendation on nanomaterials. Since 2019, she is a senior postdoctoral fellow (FWO) at the Ghent University, "Atomic & Mass Spectrometry – A&MS" research group (Belgium). Her main research interests concern the development of new mass spectrometry analytical methods to access and predict the health and environmental risks of nanomaterials.
Read Dr Velimirovic's review Mass spectrometry as a powerful analytical tool for the characterization of indoor airborne microplastics and nanoplastics.
---
Biographies of the other authors that contributed to this review can be found below.
Kristof Tirez
Kristof Tirez obtained his MSc degree in Chemistry (1994), MSc in Environmental Sanitation (1995) and PhD in Analytical Chemistry (2013) at Ghent University. Since 1997, Kristof works as a researcher and project leader in the inorganic analytical department of Vito. His main experience and research interests are situated in the determination, fractionation and speciation of elements in a variety of matrices. He acts as a science – policy bridge person and analytical expert for different Flemish public agencies dealing with environmental regulatory monitoring.
Sandra Verstraelen
Biomolecular expert, she studied biomedical sciences at the University of Antwerp and obtained her PhD in 2010 from the University of Ghent. She is air-liquid interface project leader coordinating strategic and contract research in this field, expert in vitro assay development and validation using human cell models and molecular technologies, safety testing of chemicals/nanomaterials.
Sylvie Remy
Molecular epidemiologist, she obtained her PhD degree in biomedical sciences at the University of Antwerp in 2015. She works as a researcher at VITO assessing the health impact of environmental exposures.
Evelien Frijns
Aerosol expert, she received her Master degree in Physical Geography in 2002 from the University of Amsterdam. From 2002 till 2007 she worked as environmental consultant specialized in soil contamination and remediation. Since 2007 she is an aerosol research scientist at VITO and developed expertise in the field of (ufp/nano)aerosol exposure assessment. The current research activities address questions in the area of exposure assessment to airborne ultrafine and nanoparticles in urban, indoor and occupational settings and optimizing methods for generation and characterization of (nano)particles, vapors and gasses for air-liquid interface studies.
Gudrun Koppen
Gudrun Koppen is an Engineer in Chemistry and Agricultural Sciences (University of Ghent, Belgium, 1992). She has completed a post-university degree in Environmental Sanitation (partly in Bochum-Germany, 1993). She worked one year as researcher on aerosols at the Institute of Nuclear Research of the University of Ghent (1994).  In 1999, she completed a PhD in Applied Biological Sciences at the Free University of Brussels (Belgium). Since 1999 she works at VITO (Belgium), in the unit Health. She has more than 20 year experience in molecular epidemiology, and biomarker development in the areas of genotoxicity, inflammation and oxidative stress.
Anna Rotander
With a PhD from Örebro University in 2011 focused on halogenated substances in Arctic marine mammals, and a 2-year postdoc at the University of Queensland, Australia, studying occupational exposure to highly fluorinated chemicals, Anna has a broad background in the field of mass spectrometry and environmental contaminants. Since 2016 she has dedicated her research to microplastics and carried out several projects aimed at increasing the knowledge of their occurrence, sources, and environmental distribution.
Eduardo Bolea-Fernandez
Eduardo Bolea Fernández carried out PhD research at Ghent University, Belgium, and obtained his PhD degree in 2017. His PhD research focused on method development for ultra-trace elemental and isotopic analysis using tandem ICP-mass spectrometry (ICP-MS/MS), a topic carried out in the "Atomic & Mass Spectrometry – A&MS" research unit. In 2017, he got a postdoctoral research grant (BOF-UGent) focusing on high-precision isotopic analysis of mercury using multi-collector ICP-mass spectrometry for unravelling its biogeochemical cycle. In 2019, he started a new postdoctoral research grant (FWO) based on the development of new analytical methods and their application to metallomics and nanotechnology.
Frank Vanhaecke
Frank Vanhaecke is Senior Full Professor at the Department of Analytical Chemistry of Ghent University (Belgium), where he leads the "Atomic & Mass Spectrometry–A&MS" research group.  His  research  group focuses on the determination, speciation and isotopic analysis of (trace) elements using ICP-mass  spectrometry  (ICP-MS). The A&MS group studies fundamentally-oriented aspects of the technique and develops methods for solving challenging scientific problems in an interdisciplinary context. Frank is (co)author of ~350 journal papers. He was the chairman of the editorial board of JAAS from June 2012–June 2016 and is now member of its International Advisory Board.