JAAS is delighted to announce the newest addition to our Advisory Board is Vincent Motto-Ros (Claude Bernard University Lyon 1, France)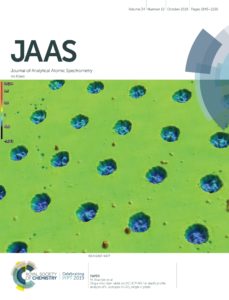 Vincent Motto-Ros graduated with a Physics degree in December 2005 from the University Claude Bernard Lyon 1 (Lyon, France). After two postdoctoral positions at the Canadian Space Agency (Montréal, Quebec) and in the Liphy Laboratory (Grenoble, France), he obtained an Associate Professor position at the University Claude Bernard Lyon 1 in 2008. He has since worked on the development of the LIBS technique in the Light and Matter Institute (ILM). He has excellent international visibility for his expertise in LIBS instrumental development, quantification, experimental training, and elemental imaging of biological tissues. He is the author of more than 60 papers in reviewed journals, 2 patents, about 50 presentations at national and international conferences, and 15 invited talks/lectures at international conferences.
JAAS is guided by an international Editorial Board and Advisory Board – more information on our board members can be found on our website. We welcome the knowledge and expertise Vincent will bring to the journal and we very much look forward to working with him. Welcome to the JAAS team!