JAAS is pleased to welcome Professor José-Luis Todolí to its Editorial Board!
---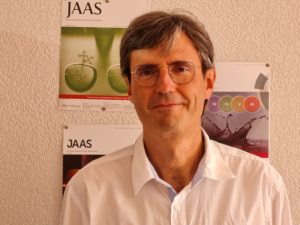 José-Luis Todolí is a full Professor of Analytical Chemistry at the University of Alicante in Spain, head of the Applied Chemical Analysis research group and deputy vice chancellor for Knowledge Transfer.
In 1991 he graduated in chemistry and in 1994 obtained his PhD degree at the University of Alicante. The same year, he was appointed as an Assistant Professor at the Department of Analytical Chemistry, Nutrition and Food Science at the same institution. In 1997, he was awarded with a European Marie Curie Grant and he performed one-year postdoctoral studies at the Université Claude Bernard in Lyon under the supervision of Professor Jean-Michel Mermet. In 2000 he obtained a permanent position as Associate Professor at the University of Alicante and, finally, in march of 2012 he gained the full professor position that he has occupied since then.
The goals of his research have been the development of ICP liquid sample introduction systems; the study of mechanisms of non-spectral interferences in ICP-based techniques and their further correction; the development of calibration strategies; the elemental analysis of petroleum products and biofuels, environmental, clinical and food samples. More recently he has been involved in projects related with laser ablation, development of new chromatographic methodologies and liquid-liquid extraction.
He has co-authored around 120 articles, several books and book chapters together with three patents. With around 300 contributions to international conferences, some of them awarded, he has given close to 40 invited lectures. More recently, in 2018, he was awarded by the Spanish Society of Researchers (dependent on the Spanish Research Council) for his contributions to the field of atomic spectrometry. He has collaborated with companies within the frame of more than 50 private contracts.